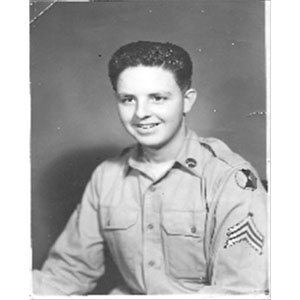 Over 50,000 Americans paid the ultimate sacrifice in the Korean War. For the first time, jets were used in war and integrated units fought together; however, Korea's timing between WWII and Vietnam makes this war a footnote in history. On holidays to honor veterans, we think of men like PFC John Hubbard, who jumped into Normandy, or SGT Ray Thompson, who fought on Guadalcanal with Chesty Puller. While their generation is known as the "greatest", we are constantly reminded that they are slowly fading away. We rarely think of the conflict that started the "Cold War" known as the Korean War – so rarely that it is known as the "forgotten" war.
Earlier this week, I was forced to forget about work for a while and remember a hero of this forgotten war. A family asked me to review the military records and prepare the uniform for the final inspection of Command Sergeant Major William "Bill" Lowe before he headed off the to post everlasting. CSM Lowe never wrote a book and Hollywood never portrayed his heroism; however, after reading the records of CSM Lowe, I knew his story needed to be told. While Korea may be the forgotten war, we cannot forget those who sacrificed so much for our country.
Following World War II, the Japanese Army left Korea with the country occupied by two foreign sovereigns: the United States occupying the South and Russia occupying the North. Lowe joined the Army as a teenager and found himself in Korea as part of this occupation force. When the North Korean Army invaded the South, Lowe's girlfriend and future wife remained in enemy-occupied territory. Lowe fought gallantly and actually swam his way behind enemy lines to save her. He continued to serve the Army in Peace – including a stint working security for three presidents. Our country called on him and sent him to where he earned his second award of the Combat Infantry Badge. Along the way he also earned many of our nation's highest combat decorations.
CSM Lowe's greatest act of heroism did not occur under enemy fire. Instead, he placed his own life in peril running to the aid of soldiers who were involved in a terrifying helicopter crash. With the 'copter rotor still spinning in a blaze of fire, he rescued the crew of four, earning the highest peace time award for heroism: the Soldier's Medal. While the military has awarded over 3,400 Medals of Honor, CSM Lowe is one of the 655 soldiers to earn the Soldier's Medal. This medal is awarded for acts of heroism that involve more than saving the life of another. If the same act took place in direct combat, the person would likely be awarded the Medal of Honor.
When He retired from the Army in 1967, CSM Lowe did not follow General MacArthur's prediction that "old soldiers never die, they just fade away." Instead, he headed to small town of Louisa located between Richmond and Charlottesville, Virginia, where he continued to serve his community in law enforcement. His service not only inspired his son to serve in that same capacity, but also his grandson. CSM Lowe exemplified the heroism of true heroes in combat and inspired two generations to serve our community. As our Korean War Veterans move on to the post everlasting, we should remember that their sacrifice is every bit as grand as those from other conflicts. Many of us hope to leave a mark on society making it a better place. CSM Lowe did just that, and his legacy continues with his descendants. Good bye, CSM Lowe. And thank you on behalf of a grateful nation and community. Most of all, thank you to our forgotten heroes of a forgotten war.
Rusty E. McGuire, the chief deputy Commonwealth's attorney in Louisa County, is a major in the Army Reserves, and served in Operations Iraqi and Enduring Freedom.