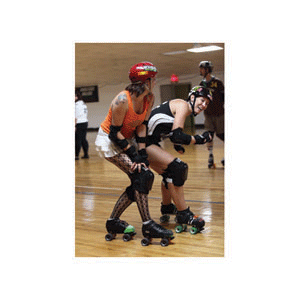 The Rocktown Rollers women's flat-track roller-derby team will open the home portion of its 2011 schedule when it hosts the River City Rollergirls' Poe's Punishers squad on Sunday, March 27.
The family-friendly bout, titled "Et Tu, Brutal?", will be held at Funky's Skate Center in Harrisonburg, with the doors opening at 4 p.m. and bout starting at 5 p.m.
Tickets can be purchased online through www.RocktownRollers.com, the Artful Dodger and Midtowne Market in Harrisonburg and Crossroads in Staunton and Waynesboro and are $5 before the bout and $8 at the door. Children 10 and under are admitted free.
Five percent of all ticket sales this season will go to the Gus Bus Reading Road Show, which will be there to read to the kids in attendance during halftime, while the league will donate 15 percent of the proceeds from this bout to Meals on Wheels.
A Women's Flat Track Derby Association (WFTDA) Apprentice league, Rocktown comes into the bout after winning their season opener on the road at Little City Roller Girls (Johnson City, Tenn.), 133-95 on Feb. 26. The bout was the first between the two WFTDA Apprentice Leagues. Rocktown held a slim 46-43 halftime lead and had its lead trimmed to just one at 46-45 after the first jam of the second half. From there on out, the Rollers took over the bout, going on a 56-11 run over the next nine jams, including holding Little City scoreless in five of those, to build a commanding 102-65 lead after 10 jams with about nine minutes to play. The margin extended to 56 at 115-59 in Jam 31 before LCRG scored 36 points on the final four jams, as compared to Rocktown's 18, for the final 133-95 margin.
A full WFTDA member, Poe's Punishers will travel from Richmond to the bout with a 1-3 record, having battled some top competition from the East Coast. Poe's opened the year at the DC Roller Girls All-Stars, dropping a 228-44 decision, and followed it with a 128-80 loss at Cape Fear "A" Team (N.C.) on Feb. 13. Then in the home opener for Poe's Punishers, the Columbia (S.C.) Quad Squad All-Stars got the best of its hosts with a 137-97 victory, Feb. 26. Most recently on March 19, Poe's got its first win of the season with a 112-60 home victory over the Carolina HURTicanes, a mixed group of various North Carolina teams.
Last season, Poe's got the best of Rocktown in a bout held in Richmond.