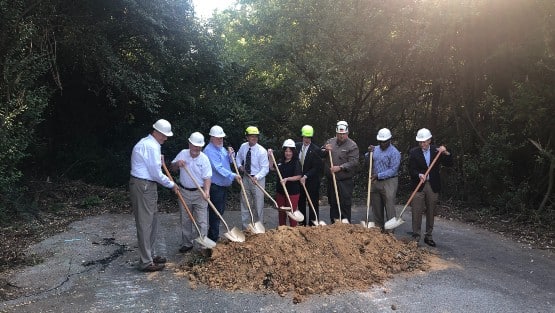 The Commonwealth's transportation budget is $7.9 billion.
"It is the nation's third-largest system of state-maintained highways after North Carolina and Texas," said Virginia Commonwealth Transportation Board member Randy Laird.
With nine projects, Waynesboro has been awarded nearly $49 million of Virginia SMART Scale funding. The state awarded $1.6 billion in funding this year, including nearly $10 million for two Waynesboro projects.
On Wednesday morning. Laird congratulated the River City on breaking ground for the Southern Corridor, which will provide access to the Nature's Crossing Technology Center (NCTC), a 170-acre city-owned industrial park behind Towne Center.
Completion of the road is scheduled for late 2025. The Southern Corridor will be a 1.6-mile two-lane road multi-modal connection between Rosser Avenue and South Delphine Avenue. The corridor's position will be south of Interstate 64 between exit 94 (Rosser Avenue) and exit 96 (South Delphine Avenue).
"If truck traffic cannot move efficiently and timely, we will not be able to attract new business to this area and grow existing business," Laird said of Interstate 81's 42 percent of truck traffic in the Commonwealth. "It is critical that we as a state continue to enhance I-81 to help you with your economic development."
Waynesboro's Director of Economic Development & Tourism Greg Hitchin said everyone present at the groundbreaking on Wednesday would be invited back in two years for a ribbon cutting ceremony.
"And let's get this road started," Hitchin said, as he, other city officials and Virginia Department of Transportation officials grabbed helmets and shovels to break ground.
Waynesboro Mayor Lana Williams began the "milestone" groundbreaking ceremony by saying that the Southern Corridor began more than 15 years ago with a vision and Virginia SMART Scale funding.
"A vision to improve access to traffic flow to Towne Center, our regional shopping destination," Williams said. "A vision to provide optimal east-west travel without the use of Interstate 64. And a vision to create access to new industrial space for the future of the city."
She thanked city council members who served before her term, including current city council member Bruce Allen and her husband, former mayor Tim Williams, for their "foresight."
Hitchin said that the road will be the catalyst to bring 210 acres of industrial land into the marketplace, 170 acres of which is NCTC.
"The city of focused on securing new manufacturing, light industrial and technology-based companies to build out the park to nearly a million square feet of industrial space," Hitchin said.
The Southern Corridor will provide NCTC with new development, employment and major capital investment for the future of Waynesboro.
Sen. Emmett Hanger and Del. John Avoli planned to speak at Wednesday morning's groundbreaking, but were called back to Richmond for 2024 state budget negotiations. Hitchen read statements from both officials.
Hanger said the corridor will provide visitors access to Waynesboro's branch of the Virginia Museum of Natural History in downtown.
He pointed out the significance of funding from SMART Scale for projects in the Commonwealth like the Southern Corridor.
"I very much look forward to the Southern Corridor coming to reality and being an integral part of connecting this area behind it to (NCTC)," Hanger said in his statement.
Avoli said that Waynesboro plays "a crucial role in the Valley," and NCTC will be a great attraction for major industries. He celebrates the corridor with the community.
Laird said that the corridor will provide "access to necessary sites" within Waynesboro.