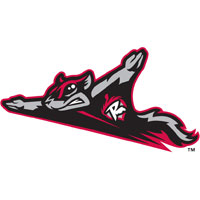 Devin Harris clubbed two home runs to help the Richmond Flying Squirrels (23-21) defeat the New Britain Rock Cats (20-24), 7-5, at New Britain Stadium on Wednesday night.  It marked the first win in the series for Richmond after New Britain had grabbed the first two.
The Squirrels' first four batters in the second inning all recorded hits off lefty Pat Dean, and all four eventually scored.  Angel Villalona led off with a single off the wall in right-center field.  Harris followed and blasted his first Eastern League home run.  The two-run shot to left-center put Richmond in front, 2-0.  Myles Schroder and Eliezer Zambrano sparked the Squirrels anew as they followed with back-to-back singles.  Schroder moved to third on a passed ball and Skyler Stromsmoe knocked him in with a sacrifice-fly.  Richmond got their final run in the inning courtesy of a fielding error and departed the frame with a 4-0 lead.
Daniel Ortiz, who already had four extra-base hits to his credit in the series, put New Britain on the board in the bottom of the second.  He drilled a solo-home run to right field off of left-hander Kelvin Marte.  It marked Ortiz's second home run of the series and fourth of the season.
However, Harris wasn't done against Dean.  He came up again in the third and belted his second home run of the night.  It departed New Britain Stadium on a similar line to left-center field and made it 5-1 Richmond.  Harris became the second Squirrel to homer twice in the same game this season (Mario Lisson).
The Rock Cats got one back in the bottom of the third due to an error charged to Kelby Tomlinson.  The second baseman's miscue allowed Corey Wimberly to reach with one out.  Wimberly swiped second base and scored on a single to left field from Nate Hanson to cut Richmond's lead to 5-2.
Dean (2-2) lasted just 4 1/3 innings.  He conceded five runs – four earned – on nine hits.  He walked one and was saddled with his second loss of the year.
Marte (2-2) earned his second win of the season over five innings.  He allowed two runs – one earned – on five hits.  He did not issue a walk or record a strikeout.
New Britain pulled within two runs against righty Edwin Quirarte in sixth inning.  With one away, Ortiz struck again.  He drilled a triple off the wall in left-center field and scored when Matt Koch followed with a ground out.
Mike Kvasnicka made it a one-run game in the seventh when he led off with a solo-home run to right field off of Quirarte.
The Squirrels put the game away soon thereafter however, plating two additional runs against Matt Summers in the eighth.  One run scored on a wild pitch, and Richmond capped their scoring when Mario Lisson doubled off the wall in left-center field to plate Tyler Graham.
Right-hander Cody Hall was dominant over 1 2/3  innings.  He followed Quirarte and cleaned up the seventh with a pair of strikeouts.  He then struck out the side in the eighth.  He recorded all five outs with a strikeout and handed it off in the ninth to Derek Law.
Law surrendered a run in the ninth, but earned his league-leading 11th save of the season, finishing the ballgame without further incident.
The finale of the four-game series is scheduled for 10:35 a.m. on Thursday morning at New Britain Stadium.  Richmond RHP Kyle Crick (2-1, 3.28) makes the start against New Britain RHP Virgil Vasquez (2-1, 3.48).  The Flying Squirrels Pregame Warmup begins at 10:05 a.m. on Sports Radio 910 and SportsRadio910.com.