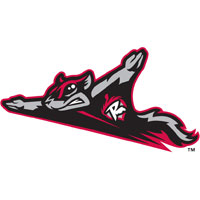 Left-hander Jack Snodgrass followed his toughest outing as a Squirrel with arguably his finest, throwing just the second nine-inning complete-game shutout in Richmond franchise history.  The Squirrels (44-21) rode the historic performance to a, 2-0, shutout win over the harrisburg senators (30-45) at The Diamond on Tuesday night.  The Squirrels pulled even with the Akron RubberDucks for the division lead with the win.  They also established a franchise record for most games above .500, reaching 13 games above for the first time.
Snodgrass (8-1) was tested just once in the ballgame – in the seventh – and rolled through, conceding just five hits – all singles.  He walked just one and struck out four.  Snodgrass delivered the first nine-inning complete game shutout since Mike MacDonald accomplished the feat against the New Hampshire Fisher Cats on August 5th, 2010.
Ryan Lollis sparked the Squirrels in the third inning with a single against right-hander Brett Brach.  An out later, Tyler Graham delivered a hit-and-run single to right field to put runners at the corners.  Brach recorded the second out, but Matt Duffy cracked an RBI single through the hole on the left-side of the infield to plate Lollis for a 1-0 lead.
Richmond tacked on an insurance-run against Brach in the seventh inning.  Eliezer Zambrano opened the inning with a double off the wall in right field.  Lollis followed with his third hit of the night – a single – that brought in Zambrano for a 2-0 advantage.
Brach (1-2) was very strong in defeat, taking the loss over seven innings.  He scattered nine hits and allowed two earned runs.  He walked one and struck out five.
The finale of the three-game series is scheduled for 12:05 p.m. at The Diamond on Wednesday night.  Richmond RHP Kyle Crick (4-3, 3.88) will make the start against Harrisburg RHP Brian Durpa (1-2, 5.02).  The Flying Squirrels Pregame Warmupbegins at 11:35 a.m. on Sports Radio 910 and SportsRadio910.com.