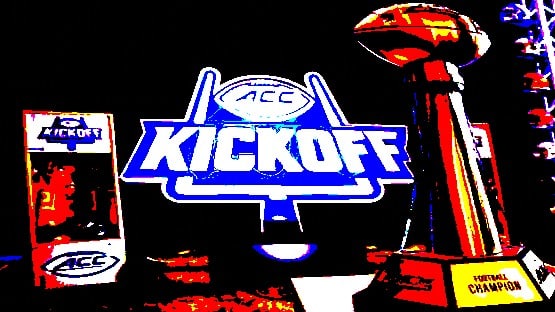 The "significant roadblock" to the ACC's pursuit of SMU, Stanford and Cal appears to be coming from inside the house.
According to reporting late last night from The Athletic, at least four of the ACC's presidents aren't on board with the plan to add the three new schools to the conference's roster.
Any move to add teams to the conference needs at least 12 of the 15 presidents to vote in favor.
Nicole Auerbach at The Athletic is saying the ACC doesn't have 12 right now, though she's also saying that no formal vote had been taken as of last night.
You might remember something similar impacting the 2004 expansion. Back then, the ACC was a nine-member league, and the by-laws required at least seven votes to expand.
Then-Virginia Gov. Mark Warner used this loophole, and the opposition of Duke and UNC to then-ACC Commissioner John Swofford's proposal to expand, to leverage UVA's vote into getting Virginia Tech to replace Syracuse as one of the three that were eventually voted in.
Now, we're left to wonder what the issue is with at least four of the members putting up the roadblock on expanding with SMU, Stanford and Cal, who are pretty much the only unaffiliated schools left out there with any value.
What do they want, basically, because this has to be about somebody wanting something.
Everything of this nature is about somebody wanting something.
One obvious objection could be to the impact on adding schools out west on travel budgets, and secondarily, on the student-athletes in sports other than football, who are already out of the classroom for potential mid-week games and multi-day series in environs stretching from Miami to Boston to the Chicago metro area, and adding Dallas and San Francisco to those itineraries could be viewed as a step too far, as if we haven't been there for years as it is.
There's really no solution to this objection, other than just not expanding.
It's not like there are a host of other schools within the geographic footprint looking for a new landing spot that can move the money needle.
A second, less obvious objection: schools who are already thinking of leaving might be using their votes to prevent something that could make it harder for them to publicly justify leaving.
To that point, the Athletic report tells us that "adding these three schools would not significantly improve the ACC schools' financial situations."
My back-of-the-envelope math, based on admittedly sketchy suppositions on what the increased payouts might be from having the ACC Network expanding to two large TV DMAs, puts the potential annual revenue impact at around $20 million per ACC school.
I call my suppositions on that sketchy because what ESPN charges cable, satellite and streaming carriers to make ACCN available to customers is considered proprietary information, i.e. they don't tell us what they charge per customer, so we have to do our best to guess.
Seems like somebody in some inner circle of this ACC story is telling The Athletic that the numbers don't add up the way some of us think they do.
I read into this being a key piece of the report from The Athletic, that the money issue is the important thing here, and that this is being leaked to a friendly reporter is an indication that somebody wants to get ahead of the story on why the expansion push isn't going to work to address the overall bottom-line issues.
This, then, would get us back to where things started a few days ago, with FSU leaders going nuclear about their desire to leave the ACC sooner rather than later, and the word that we've been given by people in the know that the Big Ten is trying to poach UVA and North Carolina.
I'm writing this on Aug. 10. There's an Aug. 15 deadline for schools to notify the conference that they're leaving for the 2024-2025 academic sports year.
My read on where we are right now, then, is, something should be happening in the next five days, one way or the other, and if we get to Aug. 15 with nothing happening, it's all going to go away – whatever FSU is going to do, whatever UVA and UNC are going to do, and the status of SMU, Stanford and Cal vis-à-vis the ACC.
Stay tuned, basically.