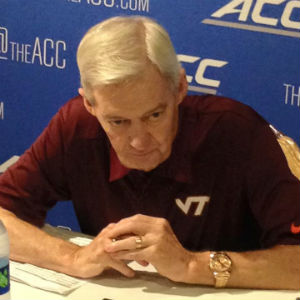 Virginia Tech football coach Frank Beamer isn't immune to criticism. Along with the title of winningest active Division I coach comes expectations that the winning will continue.
"There's no denying that the number of wins over the last few years is not the number of wins that we had a few years back," said Beamer, whose last three teams have gone a combined 22-17 overall, and 12-12 in the ACC.
This after a run of eight straight double-digit win seasons has created a sense of unease in Hokie Nation.
"There's no denying that for our fans, for our players, for our coaches, for our administration, everybody's life is a little bit easier when you have that success on Saturday. Whit's life is a lot easier when he's not getting a bunch of calls on Monday. I understand that. I understand where we are, what we need to do, where we've been, and where we need to get back to," Beamer said.
Whit is Whit Babcock, who was hired as athletics director at Virginia Tech in January 2014. Babcock's brief tenure includes an awkward moment this past January effectively giving Beamer, 231-115-2 in 28 seasons at his alma mater, a vote of confidence, something you'd never think a coach of Beamer's stature would ever need.
Asked about the statement at this week's ACC Football Kickoff, and if he felt pressure to get the program back to its previous lofty heights, Beamer waxed philosophical.
"I think if you don't feel pressure in this business, you're misguided," Beamer said. "So much changes in a year. So much changes week to week. After Ohio State last year, we were feeling pretty good. A few weeks later, we weren't, and at the end of the year, we weren't feeling so bad.
"What happens week to week, what happens year to year, you grind. You put your head down, and you grind. You treat people right, you make the decisions that are right for your program, and go hard. That's what I've always tried to do."
– Story by Chris Graham