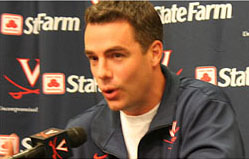 UVA basketball coach Tony Bennett talks with reporters after the Cavs' 76-27 win over Harvard on Sunday.
On the game:
"I think we were sharp. Harvard is a lot better than they showed. Mike Tobey got us off to great start offensively, and defensively we were ready. We prepared well this week in practice and had great respect for Harvard, but you could see they were sluggish and had one of their poorer games. Early on, we were right defensively and making some good shots, which was a bad recipe for Harvard. We challenged our guys not to give Harvard anything easy, and the few easy ones they got, they struggled with. I challenged our guys to play hard and have respect for how Harvard has played. I don't want to take away from how ready our players were and how great the fans were."
On Harvard:
"Tommy Amaker has done such a good job building that program over the years. That is the good and bad of sports. You feel like you are ready when you are not. You never expect your team to come out like that. They had a long break and just took finals, so I understand that. Similarly, I knew we would be ready but I didn't know we would be that ready. It was just the way it came together. We are just working on playing the game regardless of the score, and we know we will need to keep playing at a level like this to be successful."
On taking out Mike Tobey early in the first half :
"He was getting tired and he picked up a foul. I didn't want him picking up a quick second, so we took him out. We had some foul trouble with our big guys, but he had a great stint and got us off to a great start. I am glad he had 10 rebounds, too.
On preparing for Harvard's Wesley Saunders:
"We worked hard in practice trying to be disciplined in our slides and not getting faked. Saunders is really clever in his pump fakes. Our size and our length at that guard position is a nice luxury going against a big guard like that. Every shot he took was contested. For the most part Malcolm Brogdon and Mariel Shayok didn't fall for his fakes. When your shot is off, it is hard having that kind of length on you. He just was off. You could see that they all were. They were not playing the way they usually would."
On scoring:
"We talk about being sound and making good decisions. Offensively, you need to score in different ways. Yes, in your half court offense, but also offensive rebounding, at the free throw line, and some of those easy ones to break up buckets. We were stalling in one game and decided we needed to get up the court faster. If you have a good shot take it, but make a good decisions. Some of the strong guards can get in the lane and get those extra points."