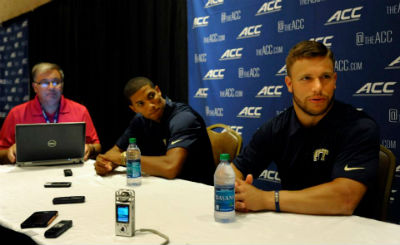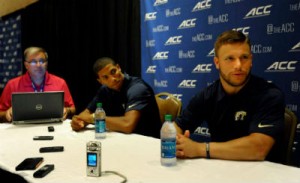 RAY VINOPAL: Todd Thomas, Matt Galambos played a lot last year. Great guys, know what they're doing, and I can count on them being where they need to be when they're supposed to be there.  Up front Dave Durham is another guy that you can just count on Dave to be where he's supposed to be, and on a defense that's all you need is guys being in the right spot, where they're supposed to be doing their job. When you've got all 11 guys doing that, you've got a good defense. As for me specifically, I'm asked to do a lot of different roles sometimes. They move me down to linebacker sometimes. They man me up on the slot or running back to avoid a mismatch with a linebacker. I play back in coverage, this and that.
My goal personally is just to be able to do as many jobs as they ask me to do and do them successfully and in a way that helps our defense stop you from scoring touchdowns.
Q. What kind of impact did Tyler have on the team last year, both statistically and as a person?
RAY VINOPAL: T. Boyd has had a huge impact on the team. He's one of the most talented guys that we have. He's very young and the sky's the limit for Tyler. To see what he did and how he did it I think gives guys on the team confidence in what they can do. You don't have to be a three-year vet, four-year vet. You can come in right now and make plays just like Tyler did, and having a confident team, teams that believe they can do the things that he did and have that kind of success, you know, spreading that throughout the team is dangerous when people believe in themselves. The sky's the limit for the amount of wins or points that can be scored or three-and-outs that can be achieved.
Q. When you look back on it at the end of the season, whenever the end of the season is, how do you evaluate your year and your career?
RAY VINOPAL: There's pretty much going to be two things that I'm going to evaluate this season on. One, did we win a championship and what bowl were we in, and two, did I do everything that I can do to help us win a championship or win a bowl game. I want to be able to end the season saying that I maxed out my capabilities for my team and that our team maxed out its capabilities as a whole.