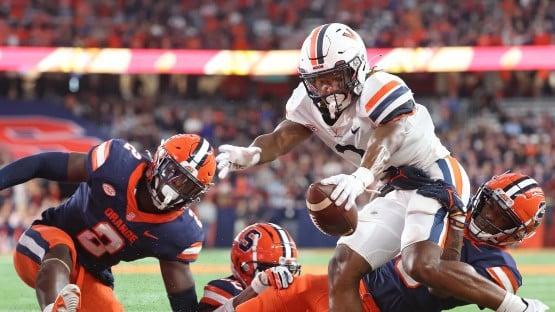 When Perris Jones only registered three carries as a true freshman during the 2018-19 season, he admitted that he wasn't sure what his future with the Virginia football program would look like. He said he wasn't even sure if he wanted to continue playing the sport.
"It was definitely challenging, I would be lying if I said it wasn't," Jones said during the ACC Kickoff event in Charlotte earlier this week. "There were some times where I felt like I wasn't in the right sport, like it wasn't for me, but I'm thankful for my teammates, my family. My mom and dad were a big part of that, just keeping me true to myself."
Although Jones contemplated the thought of moving on from football after that tough first year, he decided to stick with it, and after putting a lot of hard work into his improvement, it all paid off when Tony Elliott was hired as the new UVA coach prior to last season.
"I've always been a hard-working kid, and I'm thankful that my hard work was [seen] by Coach Elliott and his staff, and they gave me a chance, thankfully," said Jones. "I knew that I had to stay true to who I was and the core of who I was, which is a hard-working kid, and I knew it would pay off at some point."
Jones was right. He was named the UVA starter at running back in Week 1 in 2022, and remained with the first team for the first eight games before an injury cut his senior season short. Jones' 4.51 yards per carry ranked eighth in the ACC last season.
In his first start against Richmond, Jones rushed for 104 yards, which was the most by a Cavalier running back since Jordan Ellis went for 106 in the 2018 Belk Bowl shutout victory over South Carolina.
Jones enters his fifth and final collegiate season as the team's leading returning rusher after gaining 365 yards as a senior. Jones said he decided to return for one more season following the aftermath of the fatal shooting of three of his teammates in November, but he also had some unfinished business to take care of.
"Coach Elliott and his staff were the first to actually believe in me and give me a chance in my abilities," said Jones. "I feel like I left a lot out there. I didn't put my best foot forward, and I was always raised to do so by my parents. I have a lot more to give. A lot more to give my teammates, a lot more to give my coaches, and a lot more to give this program.
"That's what I aim to do with this last year. That was a big factor in coming back on top of obviously the tragedy and everything that transpired. I have a debt to pay to those guys, and I plan to pay it."
Not only will Jones be honoring the memories of Devin Chandler, Lavel Davis and D'Sean Perry, but also his backfield mate, Mike Hollins, who survived the November shooting and made a miraculous recovery in time to score a touchdown in the Spring Game in April, just about five months after nearly losing his life.
Hollins has since earned the nickname "Iron Mike" from his Wahoo teammates, and Jones explained how the two's bond has only grown stronger.
"Man, the name speaks for itself," said Jones. "I have the privilege of living with Mike as well as working out with him day in and day out. He is a superhero. That's the best way that I can describe it. Experiencing what he experienced and carrying himself with as much grace and perseverance as he does is inspirational to see day in and day out. His spirit is truly unbroken, and he embodies that every day. The passion he has for his teammates and for the coaches and for the program, I mean, it's second to none. The guy is amazing. I love him. "I tell him every morning that I'm grateful for him because he inspires me. When you see somebody go through something like that and still get up in the morning and find a way to put one foot in front of the other, it really lets you know that things aren't as bad in your life as you think they are.
"I'm grateful for him, and I love him to death. That's really my brother. I couldn't be more proud of who he is and who he is becoming."
Off the field, Jones described Hollins, his roommate for the last two years, as an extremely down-to-earth individual.
"He's just a calm guy, man," said Jones. "He's chill. He's relaxed. He's a very vibe person. Mellow. Very, very intelligent. He loves having deep conversations about history and things like that. He loves music. So he's a really cool guy off the field."
Jones and Hollins will be part of a loaded UVA backfield that also includes Clemson transfer Kobe Pace, a more experienced Xavier Brown and a healthy Amaad Foston, and Jones is excited to see what the group can collectively accomplish.
"Man, we have talent everywhere in the room, and no matter who's in the arena, we know that they're fully capable of doing great things," Jones said. "And I think that gives us confidence and it also pushes us to work harder and push each other to work harder. We understand that we want to be the best position group on the field and we want to be that in the weight room. We want to be that in nutrition, in the classroom. And so having that mindset, I think it just pushes us all toward a ceiling that I think that we will really never fully reach — we strive to reach — but it's going to be special to watch what we do this season. I truly believe in that."
Jones pointed out that each UVA running back brings a little something different to the table, should the coaching staff elect to go with more of a by-committee approach. That's the kind of thing that could keep defenses on their toes from snap to snap — if you're going up against a guy with north-south power on one play and then another guy with more east-west quickness and escapability on the next.
"Mike Hollins is a very powerful back with very good speed, very good hands, very good with pass protection," explained Jones. "Kobe is one of those guys as well, kind of can do it all — pass-catch, power, elusiveness. Xavier is more elusive, can catch out the backfield. I would describe myself similar to that… And then you have Ahmad Foston, and he's just a powerful guy. Like I'd hate to be the person tackling him."
Jones is not at all concerned about possessing the "bell-cow" role among the running backs. He noted that everyone in the room is capable of being "the guy" at any given time in his opinion, and that there is no drop-off between any of them. Jones was asked during Wednesday's media availability if there's a certain player he tries to pattern his game after.
"I would have to say I model my game after Barry Sanders, just because he's also a smaller guy but was able to make a whole bunch of noise," Jones said. "Not the biggest, not the fastest, not the strongest, but extremely efficient and effective. So I tried to model my game after him as much as I can."
A lot of the team's offensive success will rely on the re-constructed offensive line, how quickly they can gel and be able to create holes for the backs, along with protecting UVA's new quarterback, Monmouth transfer Tony Muskett. Jones believes the O-line group has made significant strides leading up to the start of fall camp this week.
"I think they're already at a good point, if I'm being honest," said Jones. "I mean, obviously, there's always room for improvement, and there's always room to deepen that connection, which is what we're continuing to try to do. But I feel like the guys are gelling extremely well, and I think we're excited to start up next week. We can't wait, we're itching to play football and are itching to show the world what we're about. We left a lot unsaid and left a lot of questions and we want to answer those questions."
It's all been quite a whirlwind for the Cavalier program over the past few months, but ultimately, Jones and his teammates can't wait to get back on the field. And when the Cavaliers suit up in a little over a month against Tennessee in Nashville, he'll be ready to contribute in whatever way possible, regardless of what his statistics look like.
"I'm just looking forward to being all that I can be, honestly," Jones admitted. "Whatever my team needs me to do, I plan on doing it to the best of my ability in the capacity that I'm in, and helping our team get a win. As long as I'm doing that, I don't really mind if I'm leading in the stat sheet or not."