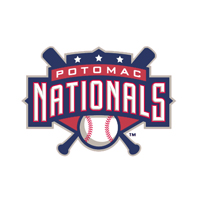 Two early towering home runs from the Winston-Salem Dash (18-33 Overall, 13-14 Road) propelled them to snap a five-game losing streak, as the hometown Potomac Nationals (26-21 Overall, 12-11 Home) managed just three hits in a 4-1 loss Sunday afternoon at Pfitzner Stadium.
The Dash scored in each of the first three innings, but then managed just two baserunners, and did not have a hit from the fourth inning on.RHP Boone Whiting (L, 5-2) allowed a solo home run to LF Mason Robbins in the first inning and the Dash never looked back. 3B Ryan Leonards had an RBI triple in the second inning and he scored one batter later on C Daniel Gonzalez's first 2016 hit. Winston-Salem capped off its scoring with a leadoff home run in the third by RF Michael Suiter, his second in just three games with the Dash.
After Suiter's home run, Whiting retired 15 straight Dash hitters, but his offense did not muster much of anything against RHP Jordan Stephens (W, 1-6). Stephens retired the first seven men that he faced on the afternoon before he issued back-to-back third inning walks to SS David Masters and RF Narciso Mesa, the eight and nine hitters in the Potomac order. CF Andrew Stevenson followed the walks with an RBI double to left field, which made it 4-1 in favor of the Dash, the eventual final. Stephens stranded men on second and third in the frame, as neither DH Alec Keller nor 1B Jose Marmolejos could not bring either Mesa or Stevenson home.
Potomac's next scoring chance came in the seventh inning against RHP Jacob Morris. After Whiting had completed his fourth straight 1-2-3 inning, the P-Nats loaded the bases with one out on a single and two walks. Morris settled down and struck out Mesa, and then induced a fly ball out from Stevenson. Potomac went just 1-8 with men in scoring position and left nine men on. The P-Nats threatened in the bottom of the ninth, as RHP Connor Walsh (SV, 3) walked C Matt Reistetter to begin the frame and Masters reached on an error by Leanords at third base. With men on the corners, Mesa popped out on the infield before Stevenson flied out to left field to end the game.
The three hits for Potomac matched a season low set on May 23rd in the second half of a doubleheader in Frederick. Despite the loss, Potomac remained 4.5 games behind division leading Lynchburg and has an opportunity to win the series Monday night.
First pitch Monday night in the series finale is set for 7:05 between the P-Nats and the Dash. RHP Luis Reyes (3-3, 3.50) is set to start for Potomac. Reyes has not pitched against the Dash in 2016, but has gone six straight starts without allowing more than three earned runs. Opposite Reyes, the Dash will counter with RHP Spencer Adams (4-3, 4.11). The White Sox's 2014 second round pick tossed eight innings vs. Potomac in a win on May 14th. In that start, Adams allowed just two earned runs on three hits and struck out seven.