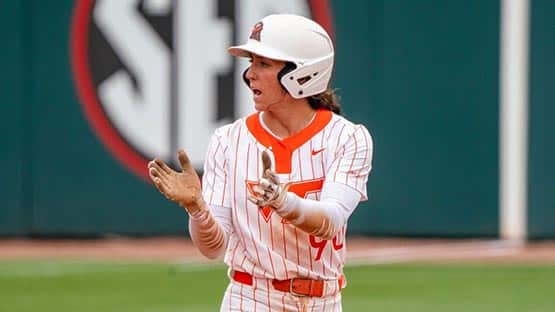 An athlete at Virginia Tech has a full plate on the softball field and is finding academic success in the classroom as well.
Emma Ritter, a senior from Perryville, Md., started 58 games for the Hokies in 2023. She had a team high .368 batting average, led the team with 68 hits, 46 RBI and ranked second on the team with 14 home runs.
The VT softball team went 39-20 for the season and ranked #24 in the nation.
Ritter has dedicated much of her life to the sport of softball but is taking the principles she has learned on the field to help her as a student in the College of Agriculture and Life Sciences.
"It's just a game in the end, but it feels so much bigger when you're in it," said Ritter. "I learned that if you allow yourself to dwell on a poor result, it impacts other parts of your life. The same applies to class. If I didn't do as well as I wanted to on something, I need to focus on how I can take advantage of the next opportunity."
Ritter admits balancing the schedule of being a student along with competing as an athlete is challenging. Ritter also served as a teaching assistant last year in addition to serving on the Student Athlete Advisory Committee.
"All of my professors have been extremely helpful, welcoming and understanding," Ritter said. "I've gotten so much out of my time in the department so far. I've been able to build meaningful connections with faculty and the other students in my major.
"Business is such a wide sector and covers so much," Ritter said. "The courses I've taken in Agricultural Economics, combined with my other learning opportunities in the department, really opened my eyes to what is possible in the field. I have so many options."