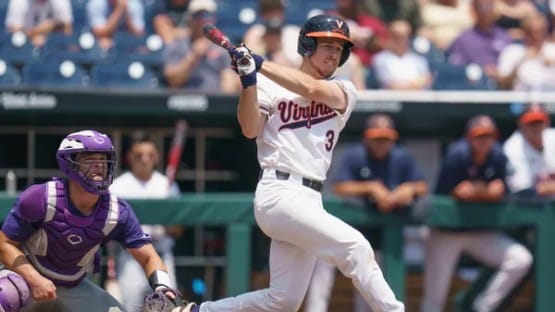 Gelof, Teel go 0-for-Omaha
Jake Gelof and Kyle Teel, both of whom are going to be first-round picks in next month's MLB Draft, were a combined 0-for-14 in Virginia's two games this weekend.
It says a lot about the Cavaliers that they should have beaten #2 Florida in Game 1 on Friday, and had the winning run at the plate with two outs in the bottom of the ninth in Game 2 with TCU, with their big guys going 0-for-Omaha.
"It comes down to those little fine details in Omaha," UVA coach Brian O'Connor said after the Game 2 loss. "Everybody has talent. Everybody earned the right to be here. It just comes down to guys rising up in key moments. That doesn't take away from who our players are. Sometimes you just don't do it because your opponent's very talented as well.
"We just couldn't get that one more big hit that we needed to win here in Omaha. And sometimes, all the time, that's what it comes down to, that big clutch hit or that clutch pitch. And we just didn't get enough of that this weekend."
Production from the bottom of the order
Freshman leftfielder Harrison Didawick had himself a weekend.
Didawick, out of the nine-hole, had an RBI triple in the ninth inning on Friday that put Virginia up 5-3, adding what at the time seemed to be an important insurance run.
On Sunday, Didawick led off the eighth with a single, stole second, made a good read on a Griff O'Ferrall fly ball to the warning track in left that led to him getting to third, then scored on a groundball out off the bat of Ethan O'Donnell.
Didawick's final weekend statline: 2-for-5, one walk, one HBP, two runs scored, one RBI, two stolen bases.
Staff grinds both days
TCU had 17 baserunners on Sunday – 12 from base hits, five from walks.
It was like Grand Central Station out there on the basepaths, and yet the Horned Frogs only scored four runs.
"I thought we did a terrific job managing the innings from a pitching and defensive standpoint," O'Connor said. "I think TCU probably left 12, 14 runners on base (actually, 11). And that's a testament to our guys, that they buckled down and didn't let the big inning happen. And that gave us a chance."
TCU did go 4-for-13 with runners in scoring position on Sunday.
Florida, in the 6-5 win in Game 1 on Friday, was 1-for-9 with runners in scoring position.
The Gators stranded eight runners on Friday night.
Virginia, on its side, stranded just four both days.
On Friday, the Cavaliers were 4-for-9 with runners in scoring position.
On Sunday, UVA was 1-for-8 with runners in scoring position, getting two runs on groundball outs, and the third run on Ethan Anderson's seventh-inning solo homer.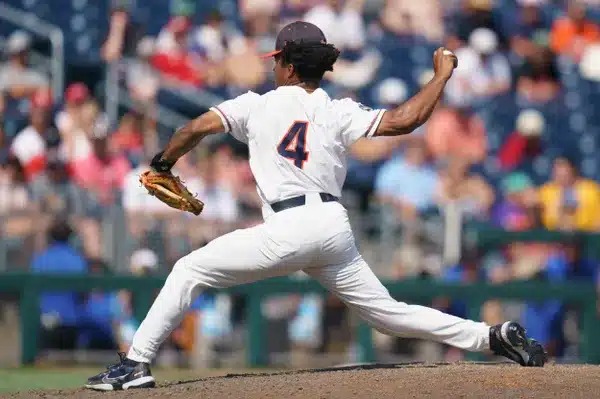 On Jay Woolfolk, and 'full confidence'
I apologize for continuing to harp on this, but Jay Woolfolk was warmed and ready in the eighth inning, and then again in the ninth inning, as Jake Berry was giving up bombs, then loading the bases after giving up bombs, in that come-from-ahead Game 1 loss.
O'Connor finally called on his closer with the bases juiced and one down. Woolfolk got the out, but the lineout off the bat of Luke Heyman was deep enough to score the winning run from third.
On Sunday, Woolfolk came in with one out and a runner on second in the ninth, down 4-3.
The sophomore, who led Virginia with nine saves this season, but was only used for literally one pitch in the Charlottesville Regional, then three batters in the three-game Super Regionals, got two more flyball outs to keep the game at one run.
"Today was great for Jay," O'Connor said. "Obviously, I put him in a challenging situation in the Florida game, but I put him in because I had confidence in him that maybe he'd get a strikeout or ground ball. That's what the situation dictated. But I'm excited for his opportunity with Team USA this summer, and I think that next year can be a terrific year for him in our uniform."
Woolfolk's weekend statline: three batters faced, three flyball outs.
Raise your hand if you could have seen more of him.
(Yeah. Thought so.)