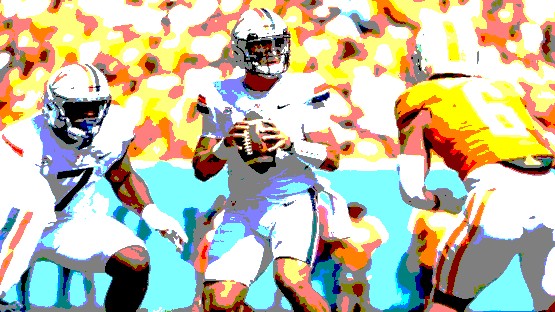 After overcoming a slow start in the season opener against visiting Bucknell on Saturday night, James Madison eventually shifted into high gear and cruised to a 38-3 win at Bridgeforth Stadium to start the season on the good foot.
This weekend, the scene shifts 58 miles to the west and over the mountain to Charlottesville (noon, ESPNU), where the Dukes will square off with Virginia for the first time since 1983, and for just the fourth time in series history (Cavaliers lead, 2-1). It will also be the 500th game played at UVA's Scott Stadium.
The Dukes (1-0) are currently a touchdown favorite heading into Saturday's noon contest (ESPNU), as the Wahoos' quarterback situation remains up in the air with Monmouth transfer Tony Muskett leaving with a shoulder injury in the second half of the Tennessee game and not returning.
Muskett was 9-for-17 for 94 yards (no touchdowns, no interceptions), but was under duress for the majority of the contest, as referenced by his negative-23 rushing yards. He was sacked four times. Head coach Tony Elliott provided an update on Muskett's status in his weekly press conference with reporters Tuesday.
"So Tony is day-to-day," the coach reported, "he's getting more range of motion in his shoulder, but he wants to play. Each day is encouraging, but right now he is day-to-day with the shoulder."
Elliott confirmed that he will be rolling with true freshman Anthony Colandrea, who stepped in and completed 2 of his 7 passes for 12 yards (rushed twice for 10 yards) against Tennessee, if Muskett is unable to go.
"I remember Muskett in high school and followed his career at Monmouth also," said JMU fifth-year head coach Curt Cignetti, "and he's had a great career. He can really spin it and he's very mobile. And [Colandrea] really gets the ball out of his hand fast. He's mobile too. I think they're both really good players."
This will be the Cavaliers' first home game at Scott Stadium since the unfortunate tragedy that claimed the lives of three players — Devin Chandler, Lavel Davis Jr. and D'Sean Perry — last November, so emotions will be running high on Saturday afternoon.
It'll be the first of three-straight road games for JMU, but by far the easiest trip of the three for the fans (Sun Belt Conference opener at Troy next week; at Utah State in Week 4). Word is on social media that the Dukes faithful plan to have anywhere from 15-to-20,000 fans — or more — in attendance in Charlottesville, where their squad will be searching for its 18th-consecutive victory against in-state opponents (last loss was Halloween 2015 against William & Mary).
Cignetti announced Monday during the Sun Belt coaches' zoom call that he will have a different starter at quarterback himself.
Last week's starter, redshirt-freshman Alonza Barnett III, struggled to get much else going other than scoring the first touchdown of the game (and his career) on a 9-yard scamper early in the second quarter.
Barnett — who Cignetti had said earlier last week had "separated himself from the pack, pretty significantly" in camp — finished the game completing just 3 of his 11 pass attempts for 15 yards and an interception, while rushing for 29 yards on 5 carries, and was sent to the sideline in the second half.
"Alonza Barnett had a terrific camp, a very talented young guy, and I think the entire staff really expected him to put that same kind of performance on the game field," said Cignetti. "I think the nerves may have gotten to him a little bit. We missed some throws in the first half that were pretty ordinary… and so he struggled a little bit."
His replacement, redshirt-senior and Arizona transfer Jordan McCloud (younger brother of former Clemson wideout RayRay McCloud), who began his career at South Florida, was inserted midway through the third quarter and went 7-for-11 for 144 yards and a pair of fourth-quarter TD tosses, adding 10 rushing yards on 2 carries, and will get the starting nod against UVA.
"Jordan McCloud came in the game and gave us a shot in the arm," Cignetti said. "We got going throwing the ball, which obviously was a must. So a lot of corrections, a lot of improvements to be made heading into our second game, and we're excited to go."
McCloud, who has played in 24 games with 19 starts across his college career, has been in plenty of big-game environments before, throwing for a career-best 404 yards against a top-10 UCF team in 2020 and running for a career-high 64 yards against No. 3 Oregon in Eugene the following year.
"We'll start McCloud this week," said the coach. "He's been in a big arena before. He's played at Notre Dame and other places like that, and he's a veteran guy and a very confident guy too, and he's got good quarterback instincts."
Redshirt senior Reggie Brown led the JMU receiving corps with 77 yards, including an impressive, career-long, over-the-shoulder, 57-yard touchdown grab from McCloud.
Against the Bison on Saturday, JMU also got a huge game from speedy redshirt-sophomore Kaelon Black, who rushed for a game-high 125 yards on just 12 carries, including a career-long, 57-yard run to end the first quarter. It marked the third 100-yard game of his young career.
"We're going to have a major emphasis on making sure we're able to run the ball a lot and also pass the ball as well the same amount," Black said after his big night. "You have to be balanced. We're facing a tough team next week, we've seen a little bit of film on them already, and we've just got to make sure we're ready."
The Dukes piled up 261 yards on the ground (436 total) on the evening, while limiting Bucknell to just 62 rushing yards (208 total, with just 4 of those — and one first down — allowed after halftime).
The UVA defense had its hands full with the high-motored Volunteer attack in Nashville Saturday, surrendering 287 yards and 5 touchdowns on the ground alone in a 49-13 defeat. If Black and the JMU backfield are able to generate similar success against the Wahoos, it could certainly play a key role in the ultimate outcome of Saturday's game.
"I know that our guys are going to be 100-percent focused and ready to play this week," Cignetti said. "We've got to have a great week of prep, be very detailed and put it on the field on Saturday."
Injury Report
Virginia defensive end Chico Bennett Jr., who led the Hoos (0-1) in sacks last season with 7.0, was unavailable against Tennessee recovering from a knee injury, but could be back in the lineup this weekend to anchor the experienced D-line. Elliott added that veteran safety Antonio Clary could also make his season debut Saturday after missing the opener against UT. Both are considered game-time decisions, along with Muskett.
"By the end of the week, we'll have our plan condensed and concise and tailored to fit either [Muskett or Colandrea] and have the ability to expect Tony to run out there," Elliott said, "and if not, if it's Colandrea, then we have a plan for him as well."
UVA defensive lineman Su Agunloye injured both knees after celebrating a fumble recovery against the Vols, and Elliott said Tuesday that he's done for the year.
On the injury front for the Dukes, running back Solomon Vanhorse and defensive end Abi Nwabuoku-Okonji both suffered season-ending injuries in Saturday's win, according to Cignetti.
"Unfortunately, both those guys look like they've sustained significant injuries and probably lost for the season," he said.