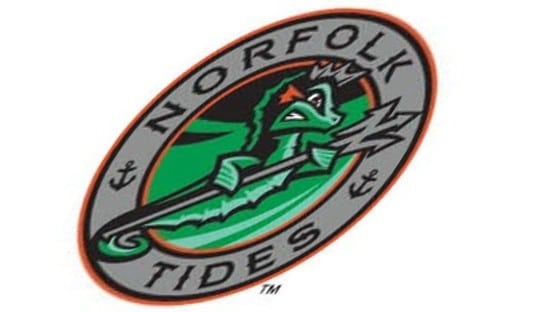 The Norfolk Tides (75-48) defeated the Durham Bulls (69-55), 12-9, on Saturday night at Harbor Park.
The 75th win of the season clinches the first winning record for Norfolk, the Triple-A affiliate of the Baltimore Orioles, since 2015.
The Tides immediately exploded for eight runs in the first inning. The first run crossed on an RBI single by Heston Kjerstad. Joey Ortiz followed by forcing an error on a hard-hit ground ball, scoring a second run. Two more runs came across when Coby Mayo knocked a two-run single to make it 4-0. To cap the scoring, Daz Cameron blasted a grand slam to go up 8-0. All eight runs were scored with no outs, knocking Bulls starter Anthony Molina out of the game.
Cameron added another run in the second when he knocked an RBI single to put the Tides up 9-0.
Durham, the Triple-A affiliate of the Tampa Bay Rays, finally responded in the third when Logan Driscoll launched a solo home run in his first career Triple-A at bat, putting the score at 9-1.
That would be the only run allowed by Tides starter John Means, who was making a Major League rehab assignment for Norfolk. He entered the game with a 70-pitch limit, finishing with 72 pitches and 42 of them being strikes. He finished with 4.1 innings, allowing one run on four hits (including the one homerun) and two walks while striking out two.
The train kept moving for the Tides, scoring two more runs in the fifth. Kjerstad hit an RBI ground out, then Ortiz knocked an RBI single to make it 11-1. Durham responded with two runs themselves in the sixth, getting an RBI fielder's choice and then an RBI double by Ronny Simon to make 11-3.
Getting another run for the Tides in the sixth was Anthony Bemboom, where on his third hit of the night he knocked an RBI single. But yet again, Durham responded with another three runs in the seventh. Niko Hulsizer knocked an RBI double, then pinch hitter Johan Lopez knocked a sac fly RBI. Diego Infante ripped an RBI single to cap the inning and make the score 12-6.
Durham kept creeping closer in what seemed to be a guaranteed blowout. With two runners on, Austin Shenton blasted an oppo-taco three-run homer to bring them within three runs. But they weren't able to score more runs in the ninth, as the Tides won, 12-9.
Game five of the series is set for tomorrow, with first pitch scheduled for 6:35 p.m. Scheduled to take the hill for the Tides is RHP Garrett Stallings (5-4, 5.44) while the Bulls have not announced a probable.