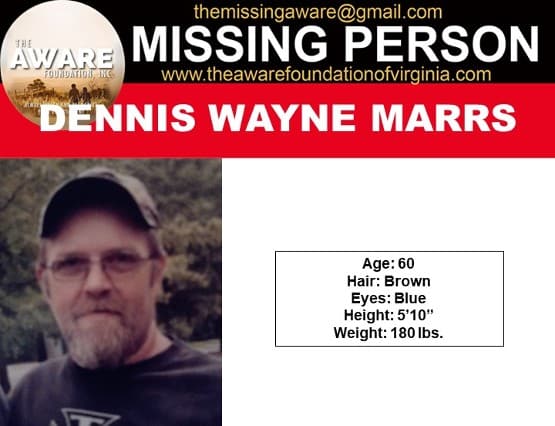 Update: Tuesday, 1:32 p.m. Dennis Wayne Marrs has been located, according to a report from The Aware Foundation.
First report: Tuesday, 9:27 a.m. The Nelson County Sheriff's Office is requesting the public's assistance in locating a missing 60-year-old male.
Dennis Wayne Marrs was reported missing to the Sheriff's Office on Tuesday. He was last seen on Sunday morning in the 2800 block of Dark Hollow Road in Roseland.
Marrs has a wizard tattoo on his right shoulder and has a heart condition.
He was last seen wearing a black collared shirt and driving a 1990s model maroon Jeep Grand Cherokee with an unknown registration.
If you have any information on his whereabouts, contact the Nelson County Sheriff's Office at 434-263-7050.