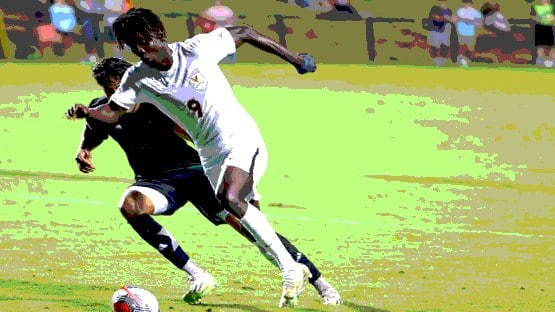 The Virginia men's soccer team earned a 1-0 victory over George Mason on Thursday night after a physical battle in which Stephen Annor's first goal as a Cavalier proved to be the difference.
The flow of the game was controlled by Virginia (2-1) early on and in the 24th minute it was freshman Stephen Annor who broke through for the Cavaliers. Sprinting on to a fifty-fifty ball, Mo Thiam raced past his defender with a clever touch to the outside before whipping the ball into Leo Afonso. A deflected shot from Afonso fell to the feet of Thiam who set up Annor's first goal in a Virginia shirt.
Just over 10 minutes later George Mason's Zach Golden was issued a straight red card after a challenge on Annor putting Mason (0-2) down to 10 men for the remainder of the match.
The Cavaliers were suffocating in the second half dominating the short-handed Patriots with heavy pressure in the attacking third while taking a total of nine shots in final 45 minutes.
With just over an hour played, Virginia had a chance to double its lead as a high-arching ball from Aidan O'Connor played Triton Beauvois in behind the Patriot defense. With a cutback onto his left foot, Beauvois fired a shot to the far post, but was denied by the outstretched leg of the sliding goalkeeper.
Virginia created numerous chances to put the game out of reach in the final 30 minutes but were ultimately unable to capitalize. The Cavaliers' dominant play with possession salted away a 1-0 win despite an overwhelming advantage on the stat sheet.
"George Mason did a good job and played very hard," UVA coach George Gelnovatch said. "We controlled the game without allowing one dangerous chance. It would have taken a bit of pressure off us if we had been able to get that second goal, and we created enough chances to get it, but we just couldn't put it away tonight. We will keep working at it, but that was a good performance and a good win."
Virginia is back in action Monday as the Cavaliers welcome Maryland to Klöckner Stadium for a 7 p.m. kickoff.
The matchup will mark the first time Virginia has faced off with their rivals from College Park on its home patch since the two were ACC rivals in 2013.