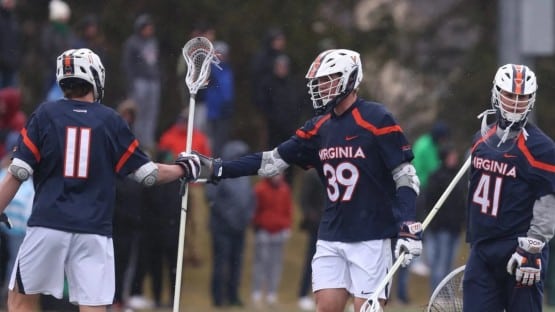 Snow started to fall in South Bend in the fourth quarter with third-ranked Virginia clinging to a 13-9 lead over top-ranked Notre Dame.
The Cavaliers would extend the lead and hold on for a 15-10 win, snapping the Irish's 12-game winning streak.
Xander Dickson had six goals, Connor Shellenberger had two goals and five assists, and Payton Cormier had two goals and two assists for Virginia (7-1, 1-0 ACC).
Notre Dame (6-1, 0-1 ACC) had last lost to UVA at Klöckner Stadium nearly one year ago (March 26, 2022).
The win marked UVA's 16th over a No. 1 opponent all-time and first since defeating Maryland 17-16 in the 2021 national championship game.
It was also Cavaliers' fifth straight win in the series.
Virginia faceoff specialist Petey LaSalla finished 17-for-29 at the faceoff X. Goalie Matthew Nunes (7-1) saved 14 of Notre Dame's 24 shots on goal.
"What a great day for Virginia lacrosse, highlighted by some exemplary performances starting with Nunes in the goal," UVA coach Lars Tiffany said. "He gave us consistency throughout the game and then stepped up huge in the fourth quarter."
Notre Dame trailed 7-3 late in the first half, but a four-goal run spanning halftime tied the game early in the third quarter.
Virginia retook the lead for good as Dickson scored back-to-back goals to extend UVA's lead back to 9-7. Patrick McIntosh got on the board with his 13th score of the season on an unassisted goal. Less than two minutes later, Shellenberger found a cutting Dickson, who buried a shot from the crease to cap a 4-0 UVA run that made it 11-7 Cavaliers.
It got no closer than three goals after that.
The Cavaliers will host their first home ACC game against Duke (9-1, 1-0 ACC) on Friday, March 31. Opening faceoff from Klöckner Stadium is set for 5 p.m. on ESPNU.