Aaron Drakeford comes to Fishburne after two years of coaching at his alma mater, University of Rio Grande, where he served as the associate head coach before joining the staff at Fishburne.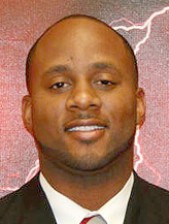 The Columbus, Ohio native is a graduate of the University of Rio Grande and Columbus East High School. He was a three-year starter for the Rio Grande RedStorm after spending one season at Cerritos Community College. Aaron holds two degrees from the University of Rio Grande, a bachelors in business administration as well as a masters degree in education.
After finishing his career at Rio, Drakeford played professionally in England with the Guildford Heat and with the Cleveland Vipers of the UBA.
"When Coach French and I talked about the tradition and quality of people involved with Fishburne Military School, I knew in my mind this was some place I wanted to be," Drakeford said. "I enjoy working with and around good people. We have a great group of kids who share a common bond and love, and that is the game of basketball. They all want to be great in basketball and in life so it makes our jobs as coaches a lot easier."
"I can't go without saying none of this would be possible without Jesus Christ our Lord and savior. Coach Huck for providing me with this opportunity he has been  and will be a great mentor for me to learn from on and off the court. Last but not least I would also like to thank Col. Gary Morrison, Mrs. Susan Johnson and the staff at Fishburne for accepting me into the Fishbure family"
Drakeford is the son Aaron Drakeford Sr. and Dy Drakeford. He has one sister (Daron) and three nephews.