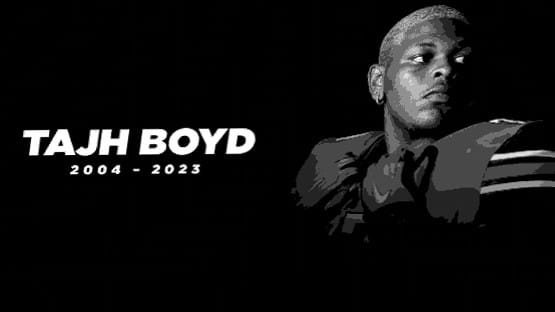 Terrible news out of Liberty football just got worse: the death of freshman offensive lineman Tajh Boyd has been ruled a suicide.
That word comes from the Western District Medical Examiner Office.
"It is with heavy hearts that we announce the unexpected passing of a bright and promising 18-year-old football player that left us far too soon," his family said in a statement. "The community and the Belfield and Boyd families are grappling with profound grief and sorrow as they mourn the loss of a young life filled with talent, dreams and boundless potential. As a family, the Belfield and Boyd families are devastated by this sudden tragedy. The pain of losing a beloved son, grandson, brother and friend is immeasurable. In this time of immense grief, the family asks for privacy, as they come to terms with their loss and find solace in the memories they shared with Tajh."
Boyd, 19, an alum of Oscar Smith High School in Chesapeake, enrolled at Liberty in January, and was preparing for his freshman season with the Flames.
He passed on Saturday.
First-year Liberty coach Jamey Chadwell, speaking to reporters at a Friday press conference, the first for the program since Boyd's death, declined to talk about what had caused the death, except to say that it wasn't football-related.
"It's been a challenging time not only for our staff, our players and just our whole community trying to comprehend all the different things have been going on," Chadwell said.
Boyd, a 6'4", 315-pound three-star recruit who committed to Liberty before his senior year of high-school football, had already "made a huge impact on the team," Chadwell told reporters.
"He was very quiet as far as an outwardly quietness, but when he was one on one with his teammates, he lit up the room," Chadwell said. "He had a very giving heart, and if there was something that anybody was going through on the team, he was always there."
If you or someone you know is considering suicide, contact the U.S. National Suicide Prevention Lifeline at 988 or 800-273-TALK (8255). It is a free, 24/7 service that offers support, information, and local resources. Click here for more resources.