Democrat Mark Herring is declaring victory and calling himself "attorney general-elect," but Republican Mark Obenshain isn't close to throwing in the towel.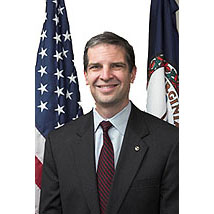 "No matter what Mark Herring says, with this margin, nobody can predict which of us will be sworn in as Virginia's next attorney general. It still could go either way. There's a lot at stake, and I'm not about to give up now," Obenshain said in a fundraising appeal emailed to supporters late Wednesday.
The State Board of Elections now has final results from localities across the state, and the tally at this stage has Herring with a 160-vote lead over Obenshain. The State Board will certify the election on Nov. 25, but it isn't likely that the current margin will change between now and then.
After the election is certified, the losing candidate can file for a recount or a contest of the election. The last recount in a Virginia statewide race came in 2005, when Republican Bob McDonnell held a 323-vote lead over Democrat Creigh Deeds upon certification by the State Board of Elections. The recount actually added 37 votes to the McDonnell margin in the end.
Herring announced his transition team on Wednesday, and Obenshain is preparing to do the same, calling the move in his email Wednesday night the "responsible thing" to do.
"The responsibility of leading the Commonwealth's law firm is not one I take lightly, and should I have the honor of serving, I will bring in the best legal minds I can to most effectively serve the people of Virginia," Obenshain said.