Despite playing a man down for the final 89 minutes, the Virginia men's soccer team defeated Marquette, 3-1, Sunday afternoon in the NCAA tournament's round of 16 at Klöckner Stadium. The eighth-seeded Cavaliers (12-5-5) advance to play the winner of the UCLA-Connecticut match next weekend in the NCAA quarterfinals; the date, time and location of that match will be announced later Sunday.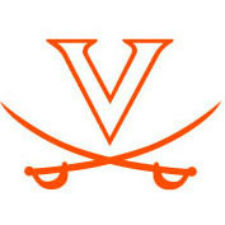 The top-seeded Bruins and Huskies play in Los Angeles at 8 p.m. ET on Sunday. If UCLA wins this evening, the quarterfinal match will be contested in Los Angeles; if UConn prevails, the match will be played in Charlottesville. Seeded ninth in the tournament, Marquette bows out with a 13-6-2 record.
The Cavaliers will be making their 18th trip to the quarterfinal round and their first since 2009 when the team went on to win the national championship.
Virginia advanced despite playing with just 10 men for the final 89 minutes after Matt Brown (Jr., Charlotte, N.C.) was shown a red card 57 seconds into the game when, as the last line of defense, he tackled C. Nortey from behind on a clear breakaway 35 yards outside the goal.
"I have never been a part of a game like that," Virginia head coach George Gelnovatch said. "I have never coached, at any level, down a man for 89 minutes. We have had a game plan for a week – a pretty detailed one. In 57 seconds, that went out the window. You just crumple up the piece of paper and readjust on the fly. We had to take (Ryan) Zinkhan out and (Zach) Carroll had to get ready. We just had to get going. Making those adjustments is one thing, but also the team. This group's toughness and will to win is incredible. I don't know if I've had a group this mentally tough. It's not something we've always had; it's something this team has developed. This will to win and mental toughness were on display today."
Scott Thomsen (So., Brick, N.J.), Darius Madison (So., Philadelphia, Pa.) and Todd Wharton (So., Glen Allen, Va.) each scored Virginia. UVa now has recorded 42 goals this year, its most since tallying 44 in 2007.
Marquette out-shot Virginia, 13-11, but eight of the Cavaliers' shots were on goal. The Golden Eagles put four shots on goal. Marquette took seven corner kicks to four for UVa; the Golden Eagles also were called for 17 fouls, while UVa was credited with 10 fouls.
Virginia goalkeeper Calle Brown (R-Jr., Leesburg, Va.) made three saves for the Cavaliers but was particularly effective in diffusing dangerous situations on corner kicks and crosses into the box. Marquette keeper Charlie Lyon made five saves.
Despite Virginia going down a man early, both teams had their share of possession throughout the match. Marquette had its best scoring opportunity of the first half in a wild flurry in the 20th minute. After a free kick Nortey had his short stop deflected away by Brown. Eric Pothast corralled the rebound near the goal line, but Brown made a sprawling save on the line to knock the shot away. The ball was sent back across the field to Bryan Ciesiulka, who fired a dangerous ball back into the box and on goal that Brown stepped up to grab and end the threat. Brown's three saves in the flurry proved to be his lone three saves of the match.
The Cavaliers scored first in the 24th minute off a free kick when Thomsen rifled a shot to the far upper 90 for his second score of the year and his first since the Cavaliers' season opener against Louisville.
Virginia quickly scored in the second half to take a 2-0 edge. After Eric Bird (Jr., Virginia Beach, Va.) made a long drive down the left flank, he sent a cross into the box and found Madison, who sent a beautiful one-time volley past Lyon for a highlight-reel score. It was Madison's sixth goal of the year.
Marquette got on the board in the 53rd minute when Axel Sjoberg sent a great ball through the Cavaliers' back line and just into the box to connect with Nortey, who beat Brown from 15 yards for his 10th goal this season.
The Golden Eagles' goal appeared to be a major shift in momentum, but Virginia immediately countered just 20 seconds later to seize back control when Bird slipped a ball on the right flank through to Marcus Salandy-Defour (So., Kensington, Md.), who made a strong run into the box and was taken down from behind by Paul Dillon to get the Cavaliers a penalty kick. Wharton then stepped to the spot and buried the penalty kick to give UVa a 3-1 edge.
"I can't say enough about it," Gelnovatch said of the Cavaliers' third goal. "(Marquette's) goal was deflating. The momentum changed and we were tired. I knew that guys like Jordan Allen, Marcus, Darius and (Ryan) Zinkhan have a lot of success when they are one-on-one in the box. We have played against some great teams and defenders, but I think we have two or three guys who can really run at guys. That is how we got the penalty kick today and some other dangerous chances. Whenever those guys got themselves into that position, they had the green light to go, and it worked."
UVa had chances to increase its lead even further as the second half progressed. In the 61st minute, Jordan Allen (Fr., Rochester, N.Y.) hit the crossbar with a shot, and Lyon stopped Allen's rebound shot. Madison created a chance in the 84th minute, but his hard, low shot toward the far post was saved by a diving Lyon.