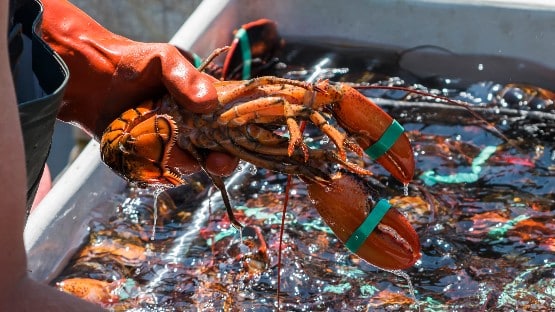 Dear EarthTalk: Is the Maine lobster industry sustainable, and why are the fishermen suing Monterey Bay Aquarium? – Derek Wilson, Bangor, ME
When one thinks of Maine, they can't help but think of Maine lobsters. Lobster has been an integral part of Maine's culture and economy for centuries. In fact, the beginnings of the Maine lobster industry can be traced back to the colonial settlement of the region in the 17th century, and is one of the oldest continually operating industries in North America. Since then, it has grown to become one of the most iconic industries in the country, and currently contributes over $1 billion to the Maine economy annually via the harvesting of over 100 million pounds of lobster every year. However, whether or not the Maine lobster industry is environmentally sustainable has come into question in recent years.
The Maine lobster industry touts a fairly sustainable record. It has a number of sustainable fishing practices in place including tail notching (the marking of an egg-bearing female lobster to signify that it cannot be harvested), minimum and maximum lobster size limits and trap size limits.
Laws to protect Maine lobster populations began in 1872 with the outlawing of harvesting egg-bearing female lobsters. Since then, the industry has continued to project lobster populations as well as other local marine life. The industry claims to have reduced lobster gear entanglements by 90 percent, as well as removed 27,000 miles worth of fishing lines.
Despite these measures, the Maine lobster industry has come under attack lately by environmental groups who claim that the industry's fishing practices are harmful to the endangered North Atlantic right whale. One of these groups, Monterey Bay Aquarium Foundation, changed their sustainability rating of Maine lobster under claims of harm to the right whale, thus discouraging customers from buying Maine's most iconic delicacy. As a result, the Maine lobster industry sued the foundation, arguing that there is no evidence that its fishing practices are to blame for any harm to the endangered whale species.
Environmental groups believe that lobster fishing practices are to blame for right whale deaths, while the lobster industry denies these claims, stating that there have been no right whale deaths traced back to the Maine lobster industry. Environmental groups counter that it is difficult to trace deaths back to specific industries or commercial fishermen, so there is no way to prove their innocence. While fishing regulations have been introduced by these groups, Maine politicians have backed the lobster industry and helped to delay the passing of new fishing regulations in order to protect their state's $1.5 billion industry. As it stands, the Maine lobster industry is embroiled in a contentious debate between the survival of an iconic and economically critical industry, and the survival of the local ecosystem and an endangered species.
CONTACTS: "Maine lobster industry wins reprieve but environmentalists say whales will die," npr.org/2023/01/04/1146637583/maine-lobster-industry-wins-reprieve-but-environmentalists-say-whales-will-die; The Maine Lobster Marketing Collaborative, lobsterfrommaine.com/; "As lawsuits pile up, lawmakers consider new bill to extend lobster legal defense fund," mainepublic.org/politics/2023-03-23/as-lawsuits-pile-up-lawmakers-consider-new-bill-to-extend-lobster-legal-defense-fund.
EarthTalk® is produced by Roddy Scheer & Doug Moss for the 501(c)3 nonprofit EarthTalk. See more at https://emagazine.com. To donate, visit https://earthtalk.org. Send questions to: [email protected].