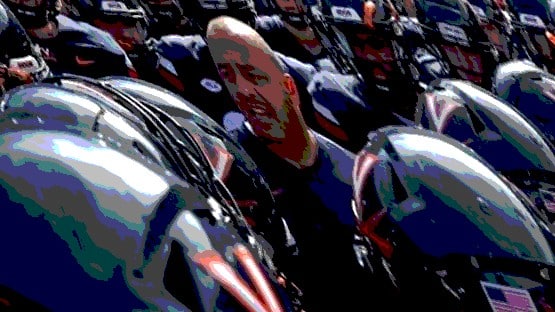 Thanks for the football articles and treading where others seem hesitant to go. It got me thinking about what success should be for UVA Football. I did some overall season records checking (post-1900) and could only find three instances where we won eight or more games for three consecutive seasons: Guepe (1950-1952), Welsh (1989-1991), and Groh (2002-2004).
Of course, Welsh had other seven-plus win seasons sandwiched around those three years when we only played 11 games. To date, 1989 remains our only 10-win season. And our overall win percentage is just a shade north of 50 percent.
In the current NIL, conference realignment and transfer portal era, is it possible for UVA Football to return to the consistency of the Welsh years? If we say 'yes' to the previous question, is our current coach the one to get us back there? I'm not going to bash CTE because he's a decent person, but I have seen very little evidence to date to suggest that he is the coach that can.
I would love to be wrong, but our recruiting is near the bottom of the ACC, his choice for OC had never lasted more than one year in that role (only two occasions), our special teams (as you wrote) is garbage, and our OL is currently FCS-level.
– AL
---
To the overriding question, can UVA Football return to the level of success of the George Welsh years, I think the answer has to be an unequivocal yes.
All we have to do is look down the road at what Mike Elko is doing at Duke, which went 9-4 last season, in his first year running the program, and is 4-0 a third of the way through his Year 2.
UVA Football apologists love to point out that our limitation is the admissions office, but, OK, Duke plays the same game there.
Welsh and his staff navigated a similar academic landscape pretty well in the 1980s and 1990s, a different era, yes, but without the resources that are available to a UVA Football coach today.
Welsh, famously, had to build his program for the first several years in what he and his assistants called "the trailer park," a collection of modular trailers that served as the football offices.
The "trailer park" era saw UVA Football go from never having played in a bowl game to spending three weeks in 1990 ranked #1 in the country.
Next spring, the football program will move into a new $80 million football operations center that will be as nice as any such facility in the ACC.
We're paying our head coach $4.25 million a year; he has a comparable level of assistants, analysts and support staff as the median competitor in the ACC.
But to the second question posed here: is Tony Elliott the guy to get the job done?
I'm going to request the ability to hard hedge here.
I know I've not been shy about making it clear the many reasons why it doesn't seem that Elliott is going to succeed: recruiting has lagged, despite the rhetoric since Day 1 that he was going to prioritize, in particular, recruiting the state of Virginia; his hires for assistants included several reaches that haven't worked out; gameday management still seems to be a seat-of-the-pants operation.
I think the program could be at a crossroads this season. It's only Year 2, but the way Elliott has completely torn down the moderately successful program that he'd inherited from Bronco Mendenhall, and not taken any noticeable steps toward a rebuild, means you could cut bait with him at the end of the season and give another new guy the chance to build from scratch without having lost anything.
But that having been made clear, you'd have to be confident that the person you hire in his place can get the job done.
Virginia cut ties with Dave Leitao after four years leading the basketball program, around the opening of JPJ, two years after Leitao was ACC Coach of the Year, and lucked into hiring Tony Bennett.
Doing the math, Bennett was the fourth coach hired after Terry Holland, the George Welsh of UVA Basketball, stepped down in 1990.
Elliott is coach #4 since Welsh, the Terry Holland of UVA Football, stepped down in 2000.
Elliott is 3-11 through a year and a third, and the poor recruiting results and staff turnover that you have to expect to be coming in the offseason can't make you think that Years 3 and 4 are going to be all that much different.
I think a legitimate point here is that the person who hired him, Carla Williams, the athletics director, isn't going to have an itchy trigger finger with respect to Elliott, because it's rare – not unheard of, certainly, but rare – that an AD is able to run off one football coach, as Williams did with Mendenhall, hire his replacement, see that guy fail to the point that he needs to be replaced, and then get to hire another guy to replace that guy.
We saw that happen down in Blacksburg with Whit Babcock, and look how that's working out for Virginia Tech right about now.
I think Williams is tethered to Elliott, and more likely than her making a move with him, you'd see people above her pay grade make a move with respect to Williams.
Which means, to me, it seems pretty clear that Elliott is going to get a Year 3, and I would bet also at least a Year 4, to get this thing turned around.
No matter how bad things get.
And this year, it could be bad.