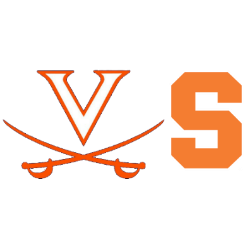 The sixth-seeded Virginia women's lacrosse team (12-9) was eliminated in the semifinals of the 2014 NCAA Women's Lacrosse National Championships with a 16-8 loss to second-seeded Syracuse (21-2) on Friday (May 23) at Johnny Unitas Stadium in Towson, Maryland.
"I couldn't be more proud of our players," said Virginia head coach Julie Myers. "To get through this stretch and to get to a Final Four, they really put their hearts into the game. We didn't play great today, but I have to give Syracuse all the credit in the world. Syracuse played incredibly well, were physical, tough and strong and they made it really hard for us to find our rhythm. We were prepared, but Syracuse jumped out to a lead and then had a dominant game all over the field. It is hard to see a season end, but I have a tremendous amount of pride in our girls and their efforts."
Sophomore Kelly Boyd (Baltimore, Md.) and senior Maddy Keeshan (Greenwich, Ct.) scored three goals apiece to lead the Cavaliers. Senior goalkeeper Liz Colgan (Cockeysville, Md.) made eight saves.
Syracuse's Alyssa Murray scored six goals with three assists. Kayla Treanor scored four goals with three assists. The Orange goalkeepers combined for five saves.
The Orange held a 9-3 advantage at halftime and outscored the Cavaliers 7-5 in the second half. Syracuse outshot Virginia 30-19 with UVa committing 17 turnovers to Syracuse's 11.
Syracuse scored the first three goals of the game and held a 7-2 lead going into the final minute of the first half. With 28 seconds remaining, the Orange picked off a Virginia pass, heading down field and scoring with 15.7 seconds remaining in the period to extend the lead to 8-2. Junior Courtney Swan (Vero Beach, Fla.) won the ensuing draw control, passing the ball up ahead to sophomore Mary Alati (Glen Ridge, N.J) who found Keeshan in front of the goal, scoring with 1.4 seconds left in the half.
Syracuse scored 3:27 into the second half, putting the Cavaliers in a 9-3 hole. Boyd scored her third goal of the game less than a minute later to put the deficit back at five. After Syracuse added their 11th goal of the game on a free position shot, Keeshan scored back-to-back goals to make it an 11-6 game. Syracuse scored five-straight goals to take a 16-6 lead with 3:16 remaining.
Junior Daniela Eppler (Baltimore, Md.) and Liza Blue (Butler, Md.) both scored unassisted goals in the final two minutes of the game to make it a 16-8 final.
Virginia, making its 14th NCAA semifinal appearance in program history, and its first since 2007, finished the season with a 12-9 record.
Syracuse will face the winner of the Maryland/Northwestern game in Sunday night's national championship game.