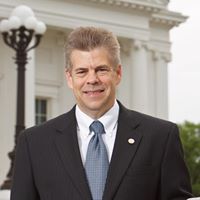 Terry McAuliffe and Senate Democrats have now held the budget hostage for some 90 days. Even after Secretary of Finance Ric Brown recently briefed the General Assembly Money Committees that state revenue shortfall could possibly exceed $1 billion over the next two years, there has been no urgency in the Senate to work towards a budget negotiation.
Led by our newly elected Governor, the first in fifty years to be elected with less than 50 percent of the vote, the Senate refuses to act on the budget passed by the House so that negotiations may begin. While the Governor has little working knowledge of the Virginia budget process and constitutional requirements for an on time balanced budget, senior Democrat Senator's statements reflect a disregard for the negative impact of a late budget on our 8.1 million citizens.
Senator McEachin, the Democrat Caucus Chair, commented in April on the potential for a government shut down that "if that's what it takes, so be it."
Senator John Edwards, Senate Rules Chairman who has the authority to call the Senate back into session, says that there has been "no great outcry" to end the budget crisis.
Senator Dick Saslaw, Democat Leader, said to the House ""if they don't like it, they can observe the mistletoe attached to my coattail," after the House criticized the Senate for taking long vacations during this crucial time.
All of these comments from Senior Democrats in the Senate are indicative of the approach they and Governor McAuliffe are taking to the budget crisis.
Furthermore, Republican Governor Mike Pence of Indiana wrote Speaker Howell applauding the House for our efforts to resist Obamacare's Medicaid expansion in Virginia. I agree with Governor Pence when he says our stand will "protect Virginia taxpayers and healthcare consumers from the long-term pitfalls of expanding this deeply flawed entitlement program." Earlier, Democrats had suggested Virginia should follow Pence lead on Medicaid expansion. As noted in the Pence letter, Indiana had worked on Medicaid fixes for 6 years and implemented many reforms before they put forth a detailed plan for increasing coverage.
The House of Delegates has offered a rational and reasonable path to ending this crisis – pass the budget now and come back for a Special Session on Medicaid expansion. We have listened to the Virginia Chamber of Commerce and over 100 other local governments, school boards, business groups, and elected officials who say lawmakers should set aside Medicaid expansion and pass a budget as quickly as possible.
As a member of the House Appropriations Committee (HAC), I will be at the HAC meeting this week to further discuss the impact of the revenue shortfall and strategies to close the budget gap.
Kirk Cox is a member of the Virginia House of Delegates.