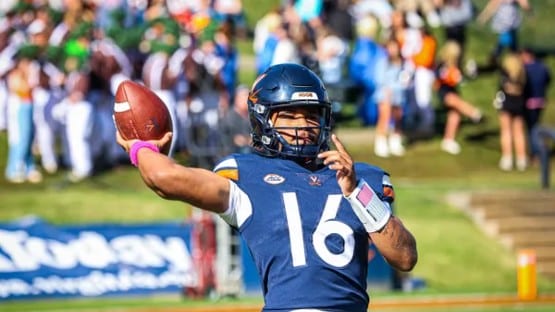 Will Jay Woolfolk be in Virginia baseball coach Brian O'Connor's weekend rotation, or will he be the closer?
The answer to that question will tell you about how much time the second-year student-athlete will then have to give this spring to UVA football coach Tony Elliott, who will be evaluating his options to name a new starting quarterback when spring practice begins next month.
"I believe Jay's got a tremendous future, both football and baseball, ahead of him, obviously. I think it's a little bit more defined right now in baseball," Elliott told reporters on Wednesday.
He's got that right. Woolfolk was 3-0 with a 2.87 ERA in 28 appearances as the setup man as a first-year in 2022, and he rates as a top pitching prospect, with a fastball in the mid-90s and plus secondary pitches.
On the football side, Woolfolk would have to be considered the leader in the clubhouse in the race for the QB1 spot, given that he spent the past two seasons as Brennan Armstrong's backup, and is the only player in the quarterback room with a start at the FBS level.
How much time he will have to devote to football this spring is the big question.
Spring practice is slated to open on March 14. The Virginia baseball team is scheduled to host George Washington that afternoon at 4 p.m.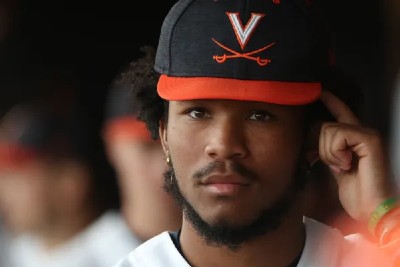 Even if Woolfolk is named the closer by O'Connor, he wouldn't likely be used that day in that role.
But whether he's the closer or he's a weekend starter, well, Virginia is on the road for three at NC State beginning that Thursday, and then the next weekend, it's three with Florida State in Davenport, then three at Virginia Tech the weekend of March 31-April 2.
And then – remember, baseball involves a lot more games than football – it's three more with Miami, then another three with Pitt, with the Pitt series coinciding with the weekend of the spring football game, which is scheduled for Saturday, April 15.
Oh, and there are midweek games against top non-conference foes like Liberty and ODU in between.
Elliott said Wednesday that he was going to meet with O'Connor later in the day on Wednesday to talk through what Oak's plans are with Woolfolk.
"What I told Coach Oak is, until Feb. 1, you take him, he's yours, evaluate him, and then we'll figure out what it looks like," Elliott said. "And really, that's the time to determine if he'll be a starter, he'll be a closer, because again, that changes our approach, because if he's one, then we'll have a little bit more access to him, if he's another, then, you know, we're kind of, we have to be flexible, because we don't know his exact schedule."
Either way, Elliott said, "the plan is to have him at every practice and all the meetings in the mornings, and then he'll do baseball in the evenings."
This, keeping in mind that, you know, there's a student part to being a student-athlete.
"And also being sensitive to, you know, he's not just a guy on the team, in my opinion, he's a guy that can contribute and help, and I want to make sure that he's able to do that," Elliott said. "At the same time, he's in a quarterback battle, you know, we brought in a transfer, we got a freshman, and we got two second-year guys that are that are here that are going to compete, so he needs to be there. So, we're gonna get as much of the physical work as we can, but he'll get all the mental work that he needs to be able to compete."