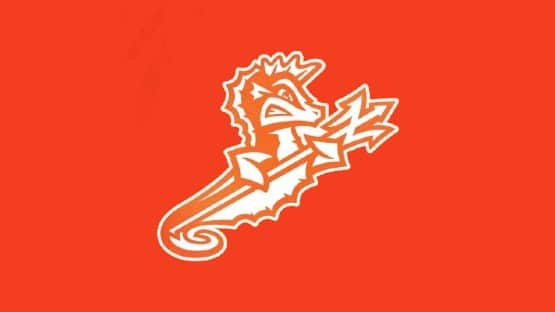 The Norfolk Tides fell to the Durham Bulls, 10-5, on Tuesday night at Harbor Park, in the opening game of the teams' International League playoff series.
Tristan Gray plated the first run of the postseason with a towering solo home run to right field to put Durham, the Triple-A affiliate of the Tampa Bay Rays, in the lead in the second.
In the following inning, Ruben Cardenas launched a deep fly ball to right-center, and the wind carried it over the wall for another Bulls solo home run, giving them a two-run lead.
The Tides, the Triple-A affiliate of the Baltimore Orioles, responded by getting traffic on the basepaths in the home half of the third. With runners at first and third, Coby Mayo lined a two-out double into the left-center gap, bringing in the runner from third while Colton Cowser motored around the bags to score from first to even the score at two.
With one away in the bottom of the fifth, Connor Norby got a hold of a first-pitch changeup that he deposited beyond the left-center field wall to give the Tides their first lead of the night, 3-2.
A two-out single up the middle with the bases loaded by Cardenas plated two runs for Durham for his second and third RBI of the night, putting the Bulls back in front by a 4-3 score in the top of the seventh.
The Bulls extended their lead with a five-run eighth that was kicked off by a Logan Driscoll RBI single and was later followed by a Vidal Bruján double to the left-center gap. Durham added another in the ninth to take a 10-3 lead.
A one-out, two-run home run off the bat of Lewin Díaz cut into the Durham lead, but that would be all the Tides could muster in the final frame, and they fell by a 10-5 score to the Bulls.
Norfolk looks to even the series tomorrow night with first pitch scheduled for 6:35 p.m. on Wednesday night. Neither team has announced a probable starter.