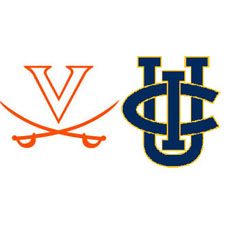 The NCAA announced this morning that Charlottesville, Va., has been selected as one of eight super regional host sites for the 2011 NCAA Division I Baseball Championship. Virginia will play host to UC Irvine in a best-of-three series, which will run June 11-13 at UVa's Davenport Field. The teams will play at 1 p.m. Saturday and Sunday and 1, 4 or 7 p.m. Monday (if necessary).
All three games will be televised on the ESPN family of networks. The Saturday and Sunday games will be broadcast on ESPNU, while the Monday contest would air on ESPN2 or ESPNU. WINA 1070-AM will carry the local radio broadcast for all games of the super regional.
Virginia (52-9) will serve as a super regional host site for the second straight year. After winning the Los Angeles Regional, UC Irvine (42-16) will appear in its first super regional since 2008. The winner of the super regional will advance to the College World Series.
The other super regional sites are: Gainesville, Fla. (Mississippi State vs. Florida), Austin, Texas (Arizona State vs. Texas), Chapel Hill, N.C. (Stanford vs. North Carolina), Nashville, Tenn. (Oregon State vs. Vanderbilt), Tallahassee, Fla. (Texas A&M-Arizona winner vs. Florida State) and Columbia, S.C. (Connecticut vs. South Carolina). The host site for the Dallas Baptist-California super regional will be determined later today.
Tickets are moving fast for the Charlottesville Super Regional. As of 5 p.m. Monday, fewer than 400 general admission ticket books remained.
Super regional all-session ticket books may be purchased in person at the Virginia Athletics Ticket Office in Bryant Hall, by calling the ticket office at (800) 542-8821 or logging on to VirginiaSports.com. The Virginia Athletics Ticket Office is open from 9 a.m. to 5 p.m. daily. Super regional all-session ticket books may be purchased for $24 for General Admission seating. Super regional Reserved ticket books are sold out.
Per NCAA protocol, the opposing team has until the day of the game to return any unused tickets from its 600-ticket allotment. In the event UC Irvine determines it will not need its entire allotment and returns any tickets in advance of gameday, the Virginia Athletics Ticket Office will contact existing super regional ticket holders for potential upgrades in the following categories:
• Any season ticket holders who were relocated from their season ticket locations because of the participating team ticket holds and can be moved back to a location more similar to their season ticket locations will be given an option to move.
• All general admission ticket holders who were not accommodated with a reserved ticket upgrade as part of their original order will be contacted in priority order according to their Virginia Athletics Foundation priority point total.
Tickets will be upgraded in the same quantity as originally purchased. It is anticipated that any tickets returned in advance of game day will be very limited.
UC Irvine also will have the option to return any remaining unused tickets on the day of the game. In the event this occurs, these tickets will be handled in the same manner as the regional. The returned tickets will be made available for sale and upgrades on a first-come, first-served basis on game day at the ticket booth at Davenport Field. The ticket booth will open at 11 a.m. on Saturday. Fans may upgrade from General Admission to Reserved on game day, subject to availability, at the Davenport Field ticket windows for $4 per ticket.
Parking on game day will be $5 in the University Hall, McCue Center and John Paul Jones Arena lots for each of the three games. Parking will be free in the Emmet/Ivy Garage. Spaces will be held in the University Hall lot for those who purchased pre-paid parking. John Paul Jones Arena is not hosting events on any of the three days in which the super regional will be played. Therefore, parking will be available in the JPJ lots for all three super regional games.
Because of the success of the Virginia baseball team this season and increased ticket demand, NCAA tournament games at Davenport Field are expected to sell out. Fans are strongly encouraged to purchase tickets in advance, as it is the only way to guarantee they will be able to attend all tournament games.
All sections of the grandstand (Sec. 101-109) and the first base bleachers (Sec. A-F) are considered Reserved seating for the super regional round. General Admission seating is located on the grassy hillside down the left-field line and in the bleachers beyond the outfield wall in both left and right field on a first-come, first-served basis. Standing room is also available for General Admission ticket buyers.
For further information on NCAA baseball tournament tickets, please call the Virginia Athletics Ticket Office at (800) 542-8821 or log on to VirginiaSports.com.
2011 NCAA Charlottesville Super Regional Schedule
Saturday, June 11
Game 1 – Virginia vs. UC Irvine, 1 p.m. (ESPNU)
Sunday, June 12
Game 2 – Virginia vs. UC Irvine, 1 p.m. (ESPNU)
Monday, June 13
Game 3 – Virginia vs. UC Irvine, 1, 4 or 7 p.m., if necessary (ESPNU)