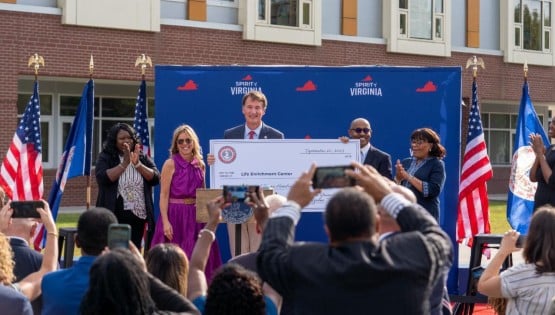 Gov. Glenn Youngkin announced that he donated his quarterly salary to the Life Enrichment Center in Virginia Beach.
LEC is a non-profit that provides literacy tutoring to students. The $43,750 donation is one of four gifts that the Youngkin and his wife, First Lady Suzanne S. Youngkin, have pledged as part of their promise to donate the entirety of the gubernatorial annual salary to nonprofit organizations doing good work across Virginia.
"I am so proud to support the Life Enrichment Center in their mission to uplift Virginia's students with life-giving literacy tutoring and other critical educational programs," Youngkin said. "Reading is a fundamental skill and all students deserve the opportunity to improve and excel in reading comprehension. This administration remains committed to accelerating our efforts to serve and equip every young Virginian with the tools they need to succeed and see their bright futures come alive."
Two previous quarterly donations were invested in Good News Jail & Prison Ministry, a nonprofit placing Christian chaplains in jails and prisons to minister to the spiritual needs of inmates and staff, and Operation Light Shine, an integral partner in helping stand up INTERCEPT Virginia, the new task force focused on eradicating human trafficking in Virginia.
The Youngkins traveled to Virginia Beach to visit College Park Elementary, one of 30 Title I schools that LEC serves. In its 20th year of service to students in low-income communities, LEC continues to directly uplift and enrich the lives of America's future leaders. Through the many volunteer tutors and invaluable community partnerships, LEC helps young students learn to read and become adept in using technology.
The Youngkins applaud and promote LEC's valuable impact through literacy tutoring, Literacy and Technology Centers, and other life-enhancing initiatives in Title I elementary schools across the Commonwealth.
"There is no greater priority than the health and welfare of Virginia's children," Suzanne Youngkin said. "The Life Enrichment Center demonstrates faith in action and we couldn't be more grateful for its dedication to the youngest Virginians."