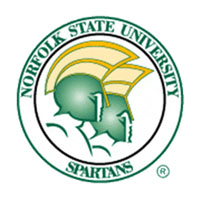 A cold shooting day doomed the Norfolk State men's basketball team in a 63-50 loss to Georgia on Saturday afternoon at the Stegeman Coliseum.
NSU shot less than 30 percent against the Bulldogs despite having a fairly big edge on the offensive glass. Despite that, NSU kept the game close, getting to within four early in the second half and seven with less than nine minutes to go.
Foul trouble, though, doomed the Spartans, as they finished with 25 on the day and had to watch several starters sit in the first half.
NSU had an 18-7 edge in offensive boards, leading to a 21-10 advantage in second chance points. Junior Jeff Short was the only player in double figures for the Spartans with 16, who suffered their second straight loss after winning seven of the previous nine games.
J.J. Frazier led Georgia with 20 points on 7-of-8 shooting. He hit three 3-pointers in the second half when NSU attempted a comeback.
Down by 13 at the half, the Spartans scored the first eight points of the second half, including a pair of 3-pointers by junior D'Shon Taylor, before Georgia finally got on the board with less than 14 minutes on the clock. The Spartans got to within four at 38-34 when Short sank a 3-pointer at the 13:32 mark.
The Bulldogs answered right back by scoring seven straight to push their advantage back to double-digits. Short hit a tough runner over a defender to get NSU to within seven with a little less than nine minutes remaining, but the Spartans got no closer than that the rest of the way.
The Bulldogs outscored the Spartans 15-0 in fastbreak points…