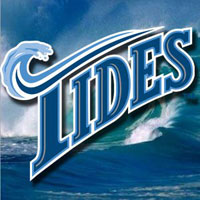 Chris George tossed seven solid innings Friday night at Harbor Park, and the Norfolk Tides made it two in a row against the Rochester Red Wings with a 4-1 win in front of 6,187 fans.
George (5-4, 4.24) picked up his first win at Harbor Park since May 7 by allowing just one run on seven hits. The former first round draft selection had some hiccups along the way but was the beneficiary of some nifty defense, including three double plays in the first four innings.
For George, no double-play on the night was bigger than the one in the 4th inning. Pitching with a 2-0 lead, George gave up consecutive singles to lead off the inning ahead of Justin Morneau. The former American League MVP hit a ball right at Carlos Rojas at shortstop who flipped the ball to Ryan Adams. Luke Hughes made a hard slide at second base to try and break up the double play, but the umpire ruled that Hughes interfered with the throw and called Morneau out at first base. The Red Wings scored on the next at-bat, an RBI single from Aaron Bates but would get no closer on the scoreboard.
The Tides jumped out to an early lead off Red Wings starter Kevin Slowey. Matt Angle led off the game with a double down the left field line and moved to third base on a two-out infield single by Jake Fox. Robbie Widlansky followed with an RBI single up the middle.
Brendan Harris added a solo home run to leadoff the second frame and increased the home team's lead to 2-0.
Slowey (1-2, 3.55) lasted 5.0 innings and allowed just the two runs on seven hits. He struck out six batters.
Brandon Snyder added a two-run double in the 7th inning off Kyle Waldrop. It was Snyder's first extra-base hit since he clubbed two home runs against Charlotte on July 3. The stretch lasted 18 games.
Mark Worrell tossed a scoreless 9th inning to earn his second save in as many nights and his 14th overall.
The Tides will try to win the series outright Saturday night at 7:15. LH Brian Matusz (0-3, 4.66) will try to pick up his first win as a Tide opposite RH Liam Hendriks (2-0, 3.66).
Morneau, who went 0-for-4 with an error on the night, is expected to be in the lineup again for Rochester.
The Tides will honor the brave men and women of the Navy Saturday night. Active Navy, retirees and dependents can purchase reserved seat tickets for $6.50 with ID. A spectacular fireworks display presented by Navy Mutual Aid will follow the game.