The George Mason men's basketball team closed the game on an 11-3 run to seal a 63-60 victory over visiting American in the season-opener of the 2013-14 season Friday night in the Patriot Center. Bryon Allen led all scorers with 20 points in the contest.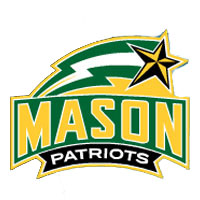 Trailing by five points, 57-52, with 4:15 left to play in the contest, redshirt freshman Jalen Jenkins connected on the back end of a pair of free throws out of the final media timeout to spark an 11-0 Mason run. Allen hit a layup at the 3:32 mark and converted the old-fashioned three-point play to cut the score to one point, 57-56. Strong Patriot defense forced an American turnover to follow, returning possession to the Patriots as Sherrod Wright converted the steal to give Mason the 58-57 advantage.
Allen and Wright combined with a pair of jumpers over the next two minutes to give the Patriots a five-point edge heading into the final 25 seconds. Mason closed out the contest with a free throw from Wright as American's Darius Gardner drained a 3-pointer at the buzzer to account for the final score.
Mason overcame a 15-point deficit in the first half to take the 41st meeting between the two squads. American raced out of the gate, opening a double-digit lead within the first five minutes of the first half. Jesse Reed connected on a trey at 13:26 to give the Eagles their largest lead of the contest at 21-6, as Mason finished the half slowly chipping away at its deficit. Patrick Holloway tied the game with just 2:05 left in the period hitting a triple to knot the score at 35-35. American regained the slight advantage on a layup from Kyle Kager before Jenkins and Wright handed the Patriots a 38-37 lead going into halftime.
Allen, who hit nine free throws, was one of three Patriots in double-figures on the night as Wright and Marko Gujanicic each contributed 13 points. Gujanicic lead Mason off the bench which outscored the Eagles, 22-7. Reed paced the AU offense with 15 points followed by Gardner with 14. Mason won the rebounding battle, 34-27, led by Wright and Gujanicic with six and five boards, respectively.
Mason hits the road for a midweek tilt at Lamar on Tuesday, November 11. Game time is slated for 8 p.m.