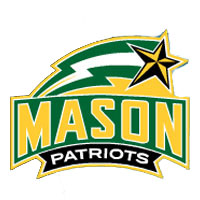 The George Mason men's basketball team saw its 18-game home winning streak come to a close on Wednesday evening as Duquesne defeated the Patriots, 75-64, avenging a double-overtime loss from a season ago. Mason dropped to 7-4 on the year with the loss, its first at home since March 16, 2010. Duquesne, meanwhile, improved to 7-5.
Senior Ryan Pearson and sophomore Vertrail Vaughns led the way offensively for Mason with 13 points apiece while senior Andre Cornelius, making his season debut after a 10-game suspension, chipped in 11. Sean Johnson led a quartet of Dukes players in double figures with 14 points. In a game marked by 40 combined team turnovers, the Dukes edged Mason off the glass, 32-28 while the Patriots out-shot DU by a 48.1-to-46.4 percent margin.
Mason countered nearly every early Duquesne bucket and led 10-9 into the first scheduled timeout. The Dukes answered with two straight baskets to lead 13-10 just over five minutes into the game. That advantage would grow to eight at 23-15 after a 10-2 DU run which lasted more than three minutes. It pushed to double digits at 33-18 as the run extended to 20-5.
A Cornelius 3-pointer from the top of the key got Mason within eight at 38-30 with less than two minutes remaining, and after a basket by Monteiro, he was whistled for a technical foul which sent Cornelius to the line. He connected on one-of-two attempts, which would set the eventual halftime score of 40-31.
Mason exploded out of the locker room with an 8-0 run to cut it to a one-point deficit four minutes into the half, but the Dukes responded with a 15-2 run of their own, making it 55-41. The Patriots fought back to close the gap to eight at 64-56 on a Pearson jumper at the 3:56 mark, and a Cornelius 3-pointer matched that margin at 71-63 inside of a minute to go. The Patriots got no closer though, as the Dukes picked up the victory, ending Mason's chances at setting a new Patriot Center winning streak of 19.