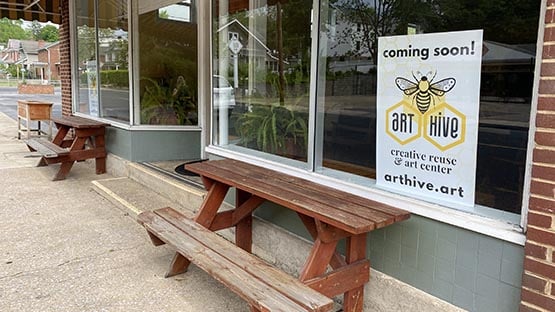 A creative reuse and art center is coming to Staunton as soon as July – and the two founders of Art Hive are planning a benefit brunch and collaborative art fundraiser to kickstart the mission and cover start-up costs.
Kirsten Schneider and Mary Pearce look to revolutionize the local art scene by providing a one-stop destination for artists, art enthusiasts and the community at large, at 835 Spring Hill Road.
As passionate artists and advocates, Schneider and Pearce plan to offer boutique and gallery space to showcase local art and support artists in the area.
"We are absolutely thrilled by the overwhelming support from the vibrant creative community in Staunton and beyond," said Schneider. "Artists are genuinely enthusiastic about the opportunities provided to connect with their community, explore new artistic horizons, access local art supplies and showcase their work."
With an emphasis on sustainability and accessibility, Art Hive will also offer a diverse range of donated materials for sale, allowing artists of all backgrounds to afford art supplies.
The goal, according to Schneider, is "taking someone's trash and turning it into treasure by diverting it from the landfill and putting it into creative hands."
The idea for Art Hive was partially influenced by Pearce's involvement with a Richmond creative reuse organization. Pearce saw the power of redirection of traditionally non-recyclable materials into a creative retail space.
Pearce was also dismayed at the enormous amount of items tossed away at a local landfill – some new and in their original packaging. Schneider was similarly frustrated at the amount of waste along the roads in her daily travels to work.
The duo is passionate about the idea of redirecting items that could be used in a creative form, and they think other artists and aspiring artists will share their vision.
"We've received heartwarming messages and generous donations from individuals as far as Fairfax, Harrisonburg and Lexington, who are eager to contribute or establish partnerships with us," Schneider said. "At our core, we value collaboration and fostering a sense of community, prioritizing cooperation over competition."
Support Art Hive at upcoming benefit brunch
On Sunday, June 11, Art Hive is hosting an event with a meticulously curated menu and signature cocktail/mocktail by renowned chef Jimmie Salonie of Pauleen's Cuisine (serving New York City and Washington, D.C.) as well as music by folk musician and Stauntonian Ethan Hawkins.
Proceeds from the benefit brunch running from 11 a.m. to 2 p.m. will go toward supporting Art Hive's mission of providing affordable art supplies, educational opportunities and boutique and gallery space for alternative and emerging artists.
Tickets for the brunch are available online on Art Hive's website.
"By attending this event, community members can actively contribute to the growth and vitality of Staunton's art scene and celebrate the vision of Art Hive," said Schneider.