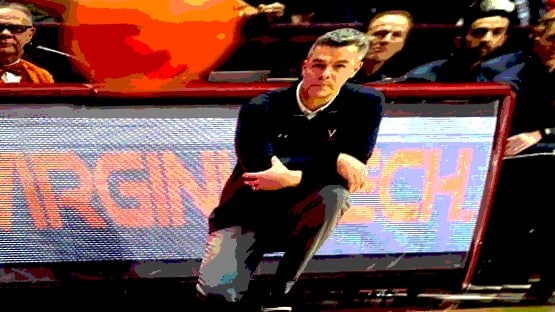 If Tony Bennett ever has you over for dinner, which he won't, but still, you never know, beware if CTB invites you to the game room for what might seem like a friendly game of table tennis.
Warning: it won't be so friendly.
"He dusted me. He just, he dusted me," said UVA point guard recruit Christian Bliss, in an interview this week on "The Jerry Ratcliffe Show."
They played one game.
"He was just better than me. I couldn't mess with him. He had everything going," said Bliss, who cited that one game of table tennis as being what convinced the four-star from New York City that he wanted to play for Bennett, a former college and NBA point guard.
"I kind of just saw sort of the competitive spirit in him, and I kind of just, like, it opened my eyes, because he's such a, like, he's such a good person, and then once he got in that mode, he kind of locked in, it was,  OK, I see it now, like, this is, this is what I want to play for, that kind of thing," Bliss said.
"I guess that ping pong game really opened my eyes a lot," Bliss said. "I don't even know if he knows that or not, but I kind of just saw it, like, I don't even know what I said, but he didn't even hear me, and like, we were right next to each other. So, I was like, alright, this guy is locked in, and if this is ping pong or basketball, he's definitely going to be locked in. So, that kind of just, I like that something about that. I kind of just gravitated towards something that kind of stood out to me."
Bliss burst onto the national recruiting scene back in December at the DC Hoops Festival in Hyattsville, Md., where he averaged 27.5 points per game and showcased his skills amongst some of the top talent in the DMV.
That showing earned him scholarship offers from the likes of Miami, Villanova, Xavier, St. John's and Penn State.
Bliss was originally a Class of 2024 recruit, but he decided to reclassify to the Class of 2023 after committing to UVA, making that move so that he can enroll at the university over the summer and redshirt.
At first glance, the move – giving up his last year of high school to then redshirt – is a head-scratcher, but Bliss, obviously mature for his age, is playing the long game.
"After really all my visits I kind of just, sort of, the facilities, the resources that all the schools had for me, and then I kind of thought about it a little bit more, I think the one that stuck out about Virginia when I went there was the plan they had for me," he said. "They broke down my film, they broke up my weaknesses and showed me like what they think I can get better at. And once I saw that, I kind of just thought, like, it would make sense to go a year earlier, so I can start working on these things with the resources and the people they have in order to prepare me to help me play and be an impact player early on, which is what one of my goals is, to play as an underclassman and help the team win."
Already playing at 6'4", 205 pounds, big for a point guard, Bliss looks forward to improving on his physicality under Bennett's strength and conditioning coach, former Virginia basketball player Mike Curtis.
"He's really impressive. I mean, everything for him is down to a science, and all his information is based off facts, so I feel like he's someone like that is easy to trust," said Bliss, who got to know Curtis well on his official visit.
"We sat, we talked, and he just explained to me how he does things, what he would do when I get here, and things like that," Bliss said. "I'm definitely excited to just allow him to help me transform my body into a new player. And I feel like that is one of my weak points right now, just my body and just getting stronger and getting ready to play at the college level, because the physicality is different there."
The other thing that Bliss said he liked about how Bennett approached him in recruitment, on top of obliterating him in a game of table tennis, is how the coach made it clear: you're going to have to earn playing time.
"A lot of these schools, when you go on the visits, they're gonna tell you a couple of different things that like, you can't really hold up, if you don't come there and earn it," Bliss said. "So, them not really promising anything kinda made me feel more comfortable, even though it kind of sounds a little weird. But just knowing that they're not gonna promise anyone anything, and when you get there, everything's gonna be earned, was something that was important for me, because I believe I'm going to earn whatever it is, whatever role I carve out for myself.
"At the end of the day, I'm here to win, and I know guys that were getting recruited here do the same thing that I'm trying to do. So, when you get around guys like yourself, and that are going to push you, I feel like that's something that kind of just put it over the edge, and that's why I want to be here."
You're going to like this kid. He's got size, he's a playmaker who can score at all three levels, and he's got New York City swagger.
"I'm a leader and a winner. Everywhere I go, I win, and I leave my team, I leave my teammates, I just get them better, push them every day, because I'm a hard worker. So, that's something that you're gonna get," Bliss said.