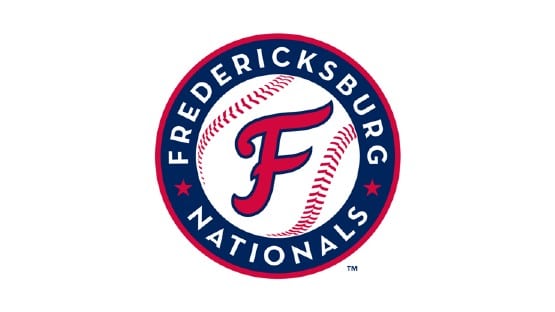 Fredericksburg dropped four out of its six games last week against Columbia, the first-place team in the Carolina League's South Division, but the Nationals did manage to take two of the last three, including arguably the most convincing win of the season in the series finale.
The Nats cruised to a 9-1 victory (in 7 innings) on Sunday, racking up 7 hits and swiping 5 bases in the process, and are hoping to carry some of that momentum into the upcoming week at Salem. The Freddies (13-24) still sit in last place in the North Division standings, a full 8.5 games behind the first-place Mudhens.
Fredericksburg actually possesses a higher winning percentage on the road (7-11, .389) than at home (6-13, .316) so far this season. The Red Sox (19-19) come into the week 5.5 games ahead in the standings, but the FredNats have a chance to whittle away at that this week at Carilion Clinic Field.
FredNats on the Farm
Freddies center fielder Elijah Green (Washington's No. 3 overall prospect and fifth overall pick in last year's draft) had a 3-for-17 week at the plate against Columbia with a double, a pair of RBI, three stolen bases, four walks and nine strikeouts. In 33 games, Green is averaging .238 on the season with two homers, 19 RBI, 19 walks and 16 stolen bases, but still leads the team with an eye-popping 63 strikeouts.
Third baseman Brady House (No. 5), the 11th overall choice in the 2021 draft, went 4-for-14 in his four games against the Fireflies, while left fielder Daylen Lile (No. 15) had another productive week, driving in three runs in Sunday's win alone. In 30 games this season, Lile — the 47th pick in the '21 draft — leads the Freddies in hits (33), doubles (8), home runs (3), runs scored (19), RBI (23) and walks (20), with an average of .292. House is batting .286 with 3 homers and 14 RBI in 25 contests this season.
Shortstop Armando Cruz (No. 13) was 2-for-9 with a walk and three strikeouts last week against Columbia, as his average on the season has dipped down to .200. First baseman Roismar Quintana (No. 16) had a big day in the first game against Columbia (3-for-3, RBI), but was just 1-for-10 in his three other games in the series.
Right fielder Brenner Cox (No. 22) continues to struggle offensively, as the 2022 fourth-rounder didn't register a hit in 13 at-bats (4 games) last week. Cox is mired in a 1-for-32 slump at the plate across his last 10 starts.
Despite allowing just one hit and one run (unearned) while striking out five batters across four innings, Jarlin Susana (No. 6) took the loss on the mound Thursday against the Fireflies. Susana is 0-3 in six starts with a 4.12 ERA, giving up just 12 hits and striking out 25 with 17 walks across 19.2 innings this season.
Jake Bennett (No. 9) also suffered a loss against Columbia on Wednesday, giving up a pair of runs on five hits while fanning nine batters (matching his season high) in four innings of work. Bennett, the 45th overall pick in last year's draft, is 1-3 on the year with a 2.37 ERA in seven starts. He's registered a team-best 40 punchouts while only walking eight batters across his 30.1 innings in 2023.
Cole Henry (No. 12) is working his way back from thoracic outlet syndrome surgery, which happens to be the same issue that has recently plagued 2019 World Series MVP Stephen Strasburg. The 55th pick in the 2020 draft, Henry started nine games last season between Double-A Harrisburg and Triple-A Rochester (1-0, 1.71 ERA with 34 strikeouts in 31.2 innings) before heading to the injured list.
In his two starts with the Freddies, Henry hasn't yet factored into a decision, but hasn't allowed a run — and has given up only four hits — while striking out 11 and walking none across 7.0 solid frames.
FredNats-Red Sox Preview
After taking four of six against the Fireflies two weeks ago, the Red Sox (Boston's Single-A affiliate) split their series last week at Lynchburg. Salem features eight of the organization's top 30 prospects, and the FredNats will have their work cut out for them on the road.
Miguel Bleis, a talented, 19-year-old outfielder out of the Dominican Republic, is considered to be Boston's best international prospect since Rafael Devers. He's ranked No. 2 in the Red Sox farm system, and is hitting at a .259 clip in 27 games with Salem so far this season.
Mikey Romero (No. 4) is a first-round middle infielder who has yet to make his season debut, while Roman Anthony (No. 9) was a second-round supplemental selection in last year's draft. Another exciting second-rounder, infielder Cutter Coffey (No. 18), has produced just a .196 average in 31 games. Shortstop Luis Ravelo (No. 26) collected 7 hits in 16 at-bats last week against Lynchburg.
The Sox also have a trio of young pitchers with loads of potential in Venezuelan product Luis Perales (No. 12), 2021 fourth-round choice Elmer Rodriguez-Cruz (No. 23), and Dalton Rogers (No. 24), who was taken in the third round of last year's draft. Those three have combined for 72 strikeouts across 18 starts this season.
Following the weekly matchup against Salem, next up for the Freddies will be a home set against Delmarva (May 30-June 4) that will include the resumption of a rain-suspended contest from April 22 to start the series.