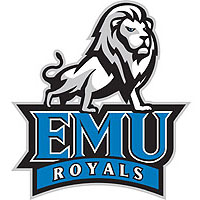 In the game of soccer, it just takes one little opportunity to make a big difference in the final outcome.  This week's Royals Athlete of the Week is being awarded to Adam Moyer (Harleysville, Pa./Christopher Dock), who took advantage of his only goal-scoring opportunity in the second half to put the game-winning goal in the back of the net for his team.
Last weekend the Royals headed down to Ashland, Va., to battle against Randolph-Macon.  The Yellow Jackets came out strong, but the Royals defense turned up the intensity to keep the game scoreless at the half.  Adam had the team's only two shots on goal, one per half, but the second half is when he truly capitalized on his opportunity.
Fellow senior Mark Mast (Harrisonburg, Va./Eastern Mennonite) strategically dribbled down the right sideline to the endline, forcing R-MC's keeper to defend near post.  As all the attention was on Mark, Adam was able to slip past his defender in the six yard box, right as Mark slid him a perfect ball for a wide open tap into the goal to give the soccer men their first ODAC win.
On the field, the 5-7 senior is like a five-year-old kid on the playground – he just keeps on going.  It is safe to say that Adam is one of the fastest players on his team.  As the starting outside midfielder, he is continuously making dangerous attacks up the field on offense and tactical runs down the field on defense.
"I've always been known for being fast since I was a kid," said Adam as he reminisced about his past.  "As I got older, I've always played outside mid, so it's always been my job to beat my defender.  That's what has set me up in being as fast as possible."
Two years of track in high school helped aid the senior increase his fast pace, but injuries this season required Adam to have to slow down.  On top of a sprained ankle this August, Adam got hit with a concussion in just the fourth game of the season against frostburg state.  He missed two games, and over a week's worth of practice, before being cleared to play again.
"The first few games back were a struggle," he said.  "It is still tough to play an entire half, because of fatigue."
The kinesiology major has plenty of knowledge when it comes to taking care of his body, so he has applied what he has been learning to help him recover well from his injuries.
"I am very big on sleep," said Adam as he described how he gets an average of eight to nine hours of sleep per night.  "There really is more free time than you would think.  Practice is only two and a half hours a day, so there is definitely a lot of free time to get stuff done."
Adam plans to graduate this spring and has found that he enjoys working with athletes and hopes to get into the fitness sector in the future as a personal fitness and/or nutritional coach.