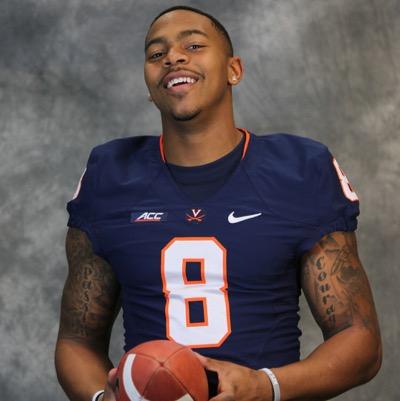 UVA wideout T.J. Thorpe was on the field for two plays last week against William and Mary, but he made his presence felt Friday night against Boise State, scoring on a 75-yard catch-and-run on a wing-and-a-prayer third-down heave from quarterback Matt Johns in the first quarter.
His most recent catch in Scott Stadium before that one came last October, for North Carolina, a game-winning fourth-quarter score for the Heels in a 28-27 comeback victory over the 'Hoos.
Turned out that Thorpe wouldn't catch another ball all night.
When you hear why, you'll realize how overwhelmed Virginia is from an offensive scheme standpoint.
"After the touchdown, every time I was in the boundary for the rest of the game, they had a linebacker over me with the corner behind him. It definitely made it difficult to get into routes. That's why Matt was sitting back there, but no one was open," Thorpe said after the game.
That was Johns' view of things as well.
"After the touchdown they started doubling him a lot and dropping a lot of guys into coverage while really only rushing three, so that was tough not having him downfield as much," Johns said.
So, OK, we get it. Boise State saw Thorpe burn the secondary on a catch-and-run, and the Broncos responded by shifting coverages his way to make sure they didn't get burned again.
That's victory UVA. Right? With a linebacker and corner bracketing Thorpe, that should create more room for the running game to operate, more space on underneath routes for backs out of the backfield, for tight ends on crosses.
Send Thorpe on deep posts and fly routes, and feast on the soft spots created by the overconcern about Thorpe and his one big play.
No. Boise State took Thorpe out of the game by putting a linebacker underneath and a corner on him deep, and yet was still able to stuff the run and take out whatever else there was to the Virginia passing game.
This is where things get downright depressing. UVA gained 273 yards of total offense on the night: 75 came on the Thorpe TD, 45 came on a catch-and-run TD for Taquan Mizzell.
Looking through the play-by-play, the Cavs gained 197 of their yards on seven plays. The other 59 plays from scrimmage gained 76 yards.
It's hard to imagine winning too many games gaining about a yard a play on 59 snaps, and that's not even accounting for the five turnovers, two of them pick-sixes.
Just a note to T.J. Thorpe: expect to see linebackers and safeties edging your way for the foreseeable future, until your offensive coordinator can figure out how to take advantage of that extra attention being thrown your way.
– Story by Chris Graham