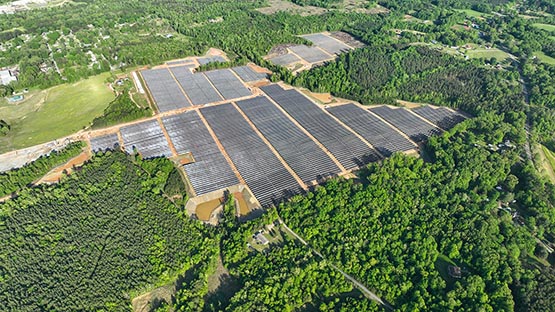 Dominion Energy Virginia is looking to expand its solar presence in the state as part of a net-zero commitment to achieve net-zero greenhouse gas emissions by 2050.
Dominion has partnered with RWE, a renewable energy company, for eight long-term utility-scale power purchasing agreements, or PPAs, for seven solar projects, including one in Rockingham County, totaling more than 300 megawatts, capable of producing more than 750,000 MG hours of generation.
"We're invigorated by our ability to help Dominion move forward with a slate of projects in its home state of Virginia that reduces its carbon footprint and helps get the industry closer to achieving net zero," said Mark Noyes, CEO of RWE Clean Energy, a subsidiary of RWE AG. "As a company, we are well-positioned to leverage our vast experience to deliver the highest quality solar energy projects, optimizing costs, while providing tailor-made solutions to our customers."
Dominion/RWE project portfolio
Pleasant Hill Solar: 20 MW project located in the City of Suffolk, which came online in April.
Watlington Solar: 20 MW project located in Halifax County, which came online in June.
Wythe County Solar: 75 MW project located in Wythe County, which is in construction and is expected to be online in 2024.
Switchgrass Solar: 69 MW project located in Suffolk County, which is in development.
360 Solar: 52 MW project located in Chesterfield County, which is in development.
Groves Solar: 15 MW project located in Westmoreland County, which is in development.
Harrisonburg Solar: 15 MW project located in Rockingham County, which is in development.
These projects will contribute to Virginia's diverse energy landscape and will help underpin a reliable energy grid allowing Dominion Energy Virginia to leverage the maximum benefit of carbon-free electric energy generation while reducing costs to ratepayers.
Each project has a PPA in place with Dominion Energy Virginia, the regulated utility company providing electricity to more than 2.8 million customers in the state.
RWE Clean Energy will serve as the long-term owner-operator of each project.
One additional project, RWE Clean Energy's Water Strider Solar, an 80-MW project in Halifax County, also has a PPA with Dominion Energy Virginia and came online in the second quarter of 2021.
Beyond these utility-scale projects, RWE Clean Energy has an additional eight distributed energy resource PPAs for 24 MW, also contracted with Dominion Energy Virginia.
Together this portfolio of projects has the capacity to power more than 70,000 homes in the Commonwealth.