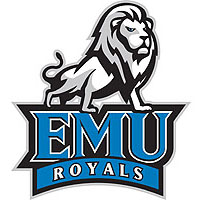 Eastern Mennonite University announces Dominick Porter as its new head men's volleyball coach.  Porter, a 2007 graduate of the EMU program, will be the eighth head coach in the 24 seasons since men's volleyball started in 1991.
An all-conference performer during his collegiate playing days, Porter continued improving after college and went on to play professionally in Germany and also with the U.S. National Team.  He has been an assistant coach with EMU the past two seasons and also coached at Eastern Mennonite High School.
"EMU was my platform to play professionally overseas and I am extremely excited to take everything I have learned and implement it at EMU," Porter said.  "I look forward to being back where my volleyball career started and to give back."
Director of Athletics Dave King said Porter brings a unique perspective on what can be accomplished with hard work.
"I am very excited to bring Dom on staff to lead the men's volleyball program," King explained.  "While by his own admission he was only an average player when he arrived at EMU, Dom used the opportunity to develop to his fullest potential, reaching the professional level of play which so few college athletes do.  Having played at the highest levels, he will be able to demonstrate and transfer that knowledge to the team and help them reach their greatest potential as players and persons."
Porter played during the most successful four-year span in program history, totaling a record of 67-36 and playing in the national Final Four in 2004.  He graduated fifth in career kills and second in career blocks, and still holds the EMU record for career hitting percentage at .385.  He said the progression he made as a player during and after his time at Eastern Mennonite will be a signature for the teams he coaches.
"You can expect growth out of my teams," he said.  "When I came to EMU as a player I didn't have the best skill set or technical training, but what I learned by being on the team was that volleyball is about progression no matter an athlete's skill set.  Positive repetitions and a clear vision can mold any level of player to greatness.  Approaching our training sessions with a vision individually and as a team will be our baseline for success."
King pointed out that while Porter understands he faces a learning curve as a first-time head coach, he is also ready to grow as a coach just as he was as a player.
"I am pleased that he is eager to learn, willing to be mentored and is committed to bringing stability to the program," said King.  "While he hasn't had much experience with recruiting, he is very familiar with the volleyball programs in both Virginia and Pennsylvania and I'm confident in his ability to build relationships with coaches and prospective student athletes.  His experiences as a student athlete at EMU give him a unique perspective to share with recruits.  He understands and is committed to EMU and I know that he will work hard to build a program that will support the values and mission of the university and help young men develop their full potential as players and persons."
While previous head coach Gary Moore worked to bring in a solid recruiting class, Porter is left with the challenge of rebuilding a program which is on its fourth head coach in four years and also graduated five seniors from a roster of ten.  He said he has plans for how to bring in new players.
"I'd like to reach out to Pennsylvania more than we have in the past," Porter said.  "We have a great base here with Richmond and Virginia Beach having an abundance of players.  To expand that reach up north is a challenge I am up for."
The Royals are founding members of the Continental Volleyball Conference, although they have narrowly missed the CVC Tournament each of the first two seasons.  Porter inherits a team which finished 14-13 last spring and averaged an impressive 207 fans per home match.  He is excited about the supportive crowds in Yoder Arena.
"EMU has always been unique in having a men's volleyball program and it makes us stand out from most colleges in the area," he said.  "I enjoy the community coming out to watch the men's team in action because for some people this is their first time seeing it."
The schedule for the 2014 season, which starts in January, will be released this fall.