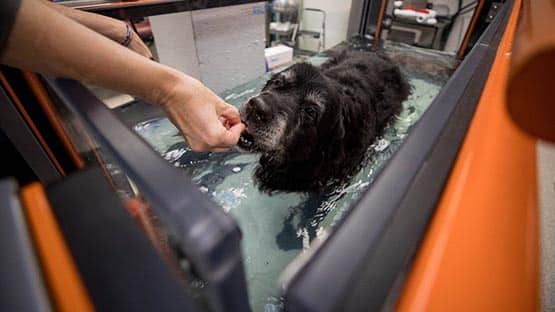 When Sophie, a Newfoundland/golden retriever mix, tore her cranial cruciate ligament in her right rear leg, typical treatment was not an option due to her age and skin problems.
However, the Virginia-Maryland College of Veterinary Medicine's teaching hospital is helping Sophie recover from her torn CCL without surgical intervention.
Who knew that like humans, physical therapy was also an option for pets.
"We talked to the owner about the spectrum of care we could offer Sophie. A CCL tear is not uncommon, but it can be a huge quality of life issue for older dogs, so it's nice to have different things we can offer, not just one type of pain medication," said Jenny Marin, clinical assistant professor of community practice at the teaching hospital.
Owner Angela McCoy Williams said Sophie had torn her left CCL in 2019. When she tore the right CCL, the old injury made it difficult for her to stand.
"Surgery is more expensive than rehab, and surgery doesn't mean it won't happen again. I would rather build up her strength and her muscle and give her what time she has left to be comfortable," said Williams.
Sophie comes to the Rehabilitation Service twice a week for laser therapy and underwater treadmill sessions with certified canine rehabilitation practitioner Flori Bliss.
Sophie loves water, so the rehabilitation is fun for her.
"We're taking the multimodal approach we typically take for rehab patients. Before her right leg injury, she wasn't on any kind of pain management, so that was the first thing to do. She's on joint supplements, anti-inflammatories, and now she's on a new diet. We're coming at it from a lot of different angles," said Bliss.
An animal and a client's circumstances often require creative problem solving. Veterinarians need flexibility to use a variety of options to make the best treatment for pets and their owners alike.
For Sophie, the spectrum of care means she could undergo rehabilitation instead of surgery.
"It's harder because she has had two tears, but I'm confident she will improve," said Marin.