Sports
Docs for Morgan basketball game fundraiser set for Feb. 1 in Roanoke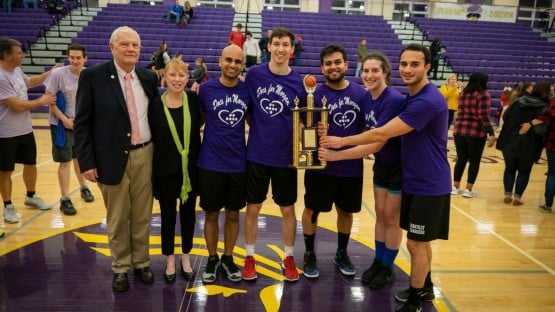 The annual Docs for Morgan basketball game fundraiser is back as an in-person event for the first time since 2020.
The game is scheduled for Wednesday, Feb. 1, at 7 p.m. at the Patrick Henry High School gymnasium at 2120 Grandin Road in Roanoke. Admission to the public event is free, and donations to the scholarship fund are encouraged.
The fundraiser benefits the Morgan Dana Harrington Memorial Scholarship Fund at the Virginia Tech Carilion School of Medicine.
After Morgan Harrington's tragic death in 2009, the outpouring of support from VTCSOM, Virginia Tech, Carilion Clinic, and the community helped the Harringtons on their path of healing. In honor of Morgan's life, they created the Morgan Dana Harrington Memorial Scholarship at the medical school, funded the Morgan Harrington Educational Wing at OMNI Village in Zambia, and founded Help Save the Next Girl, a national nonprofit that educates children and young adults about the need for safety and personal responsibility.
Dan Harrington recently retired from his role as vice dean of VTCSOM, where he played an integral role in establishing the school. Morgan Harrington worked as an intern at VTCSOM while a rising junior at Virginia Tech.
"It really means so much that we can be back in person and welcome a crowd to cheer on the students and physicians as they battle it out on the court for a great cause," said Tracey Criss, associate dean for clinical science years 3 and 4 at the medical school. "This event is really about honoring Morgan and supporting the Harrington family. Over the years it has brought together the medical school, community, and Carilion Clinic. It's something we look forward to every year."
The first Docs for Morgan basketball game was held in 2013. The game and other fundraising efforts have helped the Harrington Memorial Scholarship generate more than $500,000 to benefit students at VTCSOM.