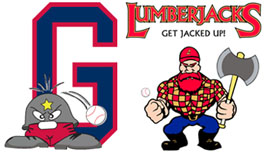 Covington scored four runs in the bottom of the eighth to stun the Waynesboro Generals, 5-4, Friday night in Valley League baseball action.
Waynesboro (6-6) had built a 4-1 lead, getting a solid start Brett Sasse, who gave up a run on five hits, striking out six without issuing a walk, in seven innings of work.
The Lumberjacks loaded the bases with one out, taking advantage of an infield error, a walk and a hit batter, before Mike Gigliott's three-run triple cleared the bases to tie the game at 4-4.
Robert Pearson (0-1) issued two more walks to reload the bases before Lee Lipinski knocked in the go-ahead run with a fielders choice to give Covington the lead.
The Generals put two on with two out in the top of the ninth before Cody Strayer got Clayton Taylor to ground out to shortstop for the final out of the game.
Ryan Gridley had three hits for Waynesboro, which got a two-run double from Ryan Coale, an RBI triple from Jeremy Taylor and a run-scoring single from Michael Brosseau to account for its offense on the night.