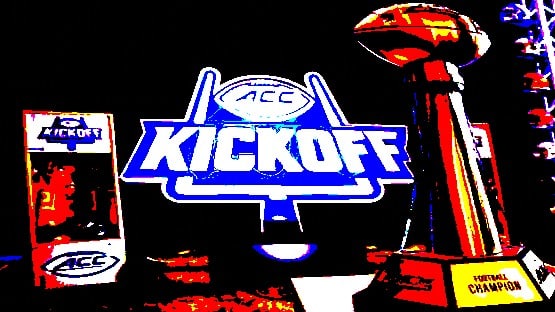 Like it or not, Notre Dame has a full voting share at the Atlantic Coast Conference roundtable.
Many believe that since the Irish elect not to be a member of the ACC in football, they should not have a say into anything football-related.
But they do.
And last week, Notre Dame was all-in on adding the two Northern California schools, Cal and Stanford, into the league.
But enough schools were, enough, for now, to stop that from happening.
The Irish are in the ACC for all their sports except football. That was negotiated when their sports were merged into the conference in 2014. Although Notre Dame remains independent, they contractually play five ACC teams in their football schedule.
Simply put, Notre Dame has the best of both worlds.
The so-called experts predict that future ACC expansion, or not, will have no impact on Notre Dame's view of football independence.
Not so fast, as ESPN's Lee Corso might say.
The Fighting Irish may have voted in favor of westward expansion of the ACC, thinking about the landscape of college football a few years down the road, and the potential scheduling impact they may face.
Traditional rivalries are huge for the Irish. Some of the biggest annual clashes for Notre Dame are games with Southern Cal, Cal and Stanford.
The networks that are paying a king's ransom to two of the super conferences (Big 10, SEC) are making a lot of noise about adding inventory to their fall Saturdays.
And that ain't talking about Alabama-Troy, Michigan-Western Michigan -type games. The networks are all about adding at least one, two extra conference matchups to their scheduling options.
Their thoughts?
An Alabama-Vanderbilt or Michigan-Rutgers matchup will bring in more eyeballs than the above-mentioned cupcakes.
If the major conference even adds one extra conference game a season, the list of potential opponents for Notre Dame starts to get a bit thinner.
Which leads us back to the Irish and their yes vote on ACC expansion.
Cal and Stanford are the two biggest pieces remaining of the Pac-4, and it's no secret they are actively looking for a new conference. One of those potential landing spots is the ACC, last week's no votes notwithstanding.
So, non-conference football member Notre Dame is all in on Cal and Stanford joining the conference, all the while maintaining football independence.
Makes sense.
And if the folks down in Greensboro, or is it Charlotte now, have any sense, they will find one more yes vote to get this done.
Why?
Because adding Cal and Stanford may eventually lead to Notre Dame being all-in on ACC football.
They may not have any other options.
If the Golden Bears or Cardinal joins a conference that is playing a nine- or 10-game conference slate, the desire to play a rugged non-conference game with Notre Dame may not be appealing.
Same goes for USC or UCLA.
Like it or not, Notre Dame may be forced to join a conference for their own inventory.
I can't imagine NBC paying millions and millions of dollars to the Irish for a steady diet of Cupcake City.
It became clear this week the other schools in the ACC may be forced into a corner, and that expansion is the only path to move forward.
Florida State and Clemson have had their eyes on the SEC for at least 15 years.
But the feeling may not have been mutual, as the SEC has remained steadfast that they are not interested in expansion, at least for the time being.
Also, that darn grant of rights deal may be ironclad.
Stanford has informed the ACC that it would be open to joining the conference at reduced or even no media rights for several years, according to some wire services.
Could that persuade Stanford and Cal the necessary votes to expand? We may learn soon.
In the meantime, Notre Dame's desire to expand the conference could speak volumes about the Irish and their coveted football independence.