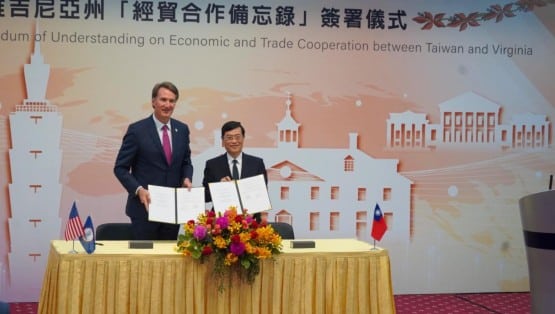 Virginia's first office of economic development in Taiwan is open and ready for trade.
The Taipei City office solidifies a commitment to strengthen Virginia and Taiwan's economic and trade relationship.
Early this morning, Virginia Secretary of Commerce and Trade Caren Merrick joined Liang-yu Wang, Director General, Department of North American Affairs, Ministry of Foreign Affairs, and officials from the Virginia Economic Development Partnership (VEDP) for the opening ceremony of the office.
The office was established in response to Gov. Glenn Youngkin's Executive Order 25 to strengthen the business relationship between Virginia and Taiwan, including mutual trade and investment initiatives. The new office will be Virginia's fourth international office, in addition to offices in Germany, Japan and South Korea.
"Taiwan represents a significant market for foreign direct investment and international trade and the new Virginia-Taiwan Trade Office will strategically position the Commonwealth for economic development opportunities," Youngkin said. "We look forward to strengthening our partnership with Taiwan as we actively work to recruit Taiwanese companies and encourage trade with Virginia businesses."
In April, Youngkin announced plans for the trade office in a meeting with President Tsai Ing-wen. The meeting was during the Governor's first international trade mission to Asia. Youngkin signed a Memorandum of Understanding between the Ministry of Economic Affairs of Taiwan and the Commonwealth on economic and trade cooperation, which acknowledges Taiwan's importance to Virginia as an investment partner. The memorandum also committed to further collaboration in research, innovation and critical global industries, including consumer electronics.
"It is an honor to be part of the opening of the first Virginia office for economic development in Taiwan, and we are ready to get to work and deepen the Commonwealth's economic and international trade ties with Taiwanese businesses," Merrick said. "Taiwan and Virginia share a commitment to innovation, collaboration, and leadership, and the new office will showcase the Commonwealth's advantages to prospective investors and businesses and expand markets for Virginia products."
Taiwanese-owned Virginia companies are the fourth fastest-growing source of foreign direct investment in the United States. The U.S. is Taiwan's second largest trading partner and Virginia is a meaningful driver of the national partnership. Virginia exported $730 million in products to Taiwan in 2022 and imported $1 billion in goods from Taiwan. The Virginia-Taiwan Trade Office will offer services to assist Taiwanese companies with opportunities in Virginia, bring investment and new jobs to the Commonwealth and further open markets for Virginia products such as critical computer and electronic products, machinery, and agricultural exports like soybeans and textiles.
"International trade and foreign direct investment have a major economic impact on every region of the Commonwealth, and the Virginia-Taiwan Trade Office will position the Commonwealth to be even more competitive in a global economy," VEDP President and CEO Jason El Koubi said. "VEDP looks forward to working with Taiwanese businesses and stakeholders to promote Virginia as a prime business location and trade partner."
The VEDP was created in 1995 by the Virginia General Assembly to encourage, stimulate and support the development and expansion of the economy of the Commonwealth.