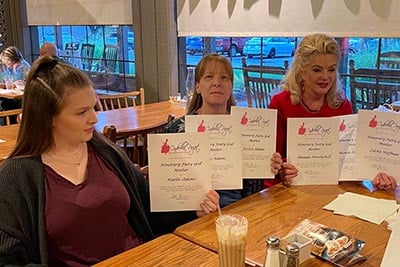 The Cinderella Project of the Shenandoah Valley served 394 clients in the past year. On Sunday, the non-profit recognized their volunteers at the Staunton Cracker Barrell. In total, 78 volunteers worked with the non-profit to serve 394 clients.
Volunteers received an "honorary fairy godmother" certificate recognizing their service and an appreciation gift.
Most of the students served were from Staunton, Waynesboro and Bath and Augusta counties comprising 40 percent of the group. Thirty-nine percent came from Harrisonburg and Rockingham County.  Some students served were from other areas of the Commonwealth including Newport News and Culpeper.
The non-profit charity was founded in 2004 to help high school or middle school students with free attire and accessories to attend a graduation, prom, dance or special event.
The charity opened at a new location on Sept. 2, 2021, in the Valley Mall in Harrisonburg after their Staunton Mall location was forced to close. The visibility of the new location has led the non-profit to serve more students and attract additional volunteers.
The Valley Mall store is open on Saturdays from 10 a.m. to 4 p.m. and Sundays from 1:30 to 5:30 p.m. from Sept. 10 – Oct. 30 for a homecoming dress fundraiser. The non-profit plans to offer short dresses and additional inventory to help bridge expenses. They will also offer wedding dresses and some children's pageant dresses. These items will require a donation of $15 for a short dress and $30 for a long dress. Proceeds will be used to buy items needed for the prom service project.
For more information, visit the Cinderella Project Facebook page.
If you are interested in volunteering, contact [email protected]