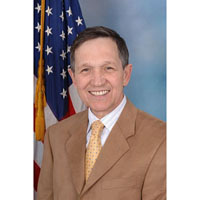 First thing about presidential-race polls more than a year out: They're worthless, OK?
I say that, and there go the thousands of reads that we get on our poll stories, but oh, well. It's the truth. Who'd have guessed at this time in the 2008 cycle that Barack Obama would have ended up getting the most votes by a Democratic presidential nominee since Lyndon Johnson? Come on. In May 2007? No way.
Ok, that said … polls, no matter how worthless at this time of year, are still loads of fun.
Case in point: Public Policy Polling and its let's have some fun poll this week. PPP decided to test Donald Trump against a Democrat that you'd have to assume that even Trump could beat in a hypothetical head-to-head 2012 matchup. That's right, perennial Democratic Party presidential-nomination early dropout Dennis Kucinich, he with such pull that he couldn't even keep himself from being gerrymandered out of his congressional seat after the Census.
Apparently, though, Kucinich has more pull than The Donald, at least according to PPP, which this week would have Kucinich leading Trump in a 2012 matchup by a 40 percent-to-36 percent margin.
Any wonder why Trump dropped out of the GOP presidential race that he never really formally entered? Yeah. The Ron Paul of the Left cleans his clock.
Which leads us to some bad news for Sarah Palin. Yep, PPP tested her against Kucinich as well, and you're not going to believe it, but she actually tested worse. Kucinich would lead Palin 43 percent to 36 percent in their 2012 matchup, taking independents by 10 percentage points.
(Repeat after me: Yikes!)
Seems that Mrs. Palin and Mr. Trump are right at home on reality TV. And that maybe Mr. Kucinich is a breakout reality star once his career in Congress comes to an end.