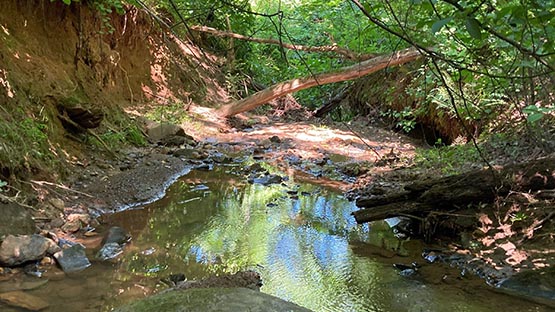 The City of Charlottesville is currently prepping the Schenks Branch Tributary, a stream in McIntire Park that runs through the Botanical Garden of the Piedmont, or BGP, for construction planned to begin in October.
The restoration project will last approximately six months.
The goals of the restoration project are to reduce pollution, increase ecological function, improve habitat, promote educational opportunities and provide better public access all while integrating seamlessly botanical garden.
The BGP envisions the restored stream as a central, key feature around which other facets of the gardens will be programmed. They plan to use the stream as an outdoor classroom, where the community can learn about stream ecology, water quality and stream restoration.
Current conditions
The stream is experiencing active severe erosion, sending excessive amounts of sediment and nutrient pollution downstream. Some of the unstable, eroding stream banks are as high as 12 feet tall and data collected indicate that 436,000 pounds of sediment erode from the stream every year.
The stream currently offers an extremely poor habitat for aquatic organisms and is largely inaccessible to the public for recreational or educational purposes.
Restoration project
The city hired an environmental engineering firm to design a restoration approach that will bring the stream back to a stable and healthy state. The design includes features that serve to reduce stream energy by slowing down and redirecting stream flow, minimizing erosion while also providing habitat for insects and fish.
Construction of the restoration will involve grading the steep banks of the stream, raising the stream bed and connecting it to a new floodplain and realigning the stream into a more stable pattern.
This work will include the removal of the existing vegetation and trees along the stream. The city worked with BGP to develop a revegetation plan that will plant a total of nearly 1,000 new trees and shrubs, all of which are native to the region.
Schenks Branch Tributary restoration links
Schenks Branch Tributary Stream Restoration story map
City of Charlottesville project webpage
Botanical Garden of the Piedmont