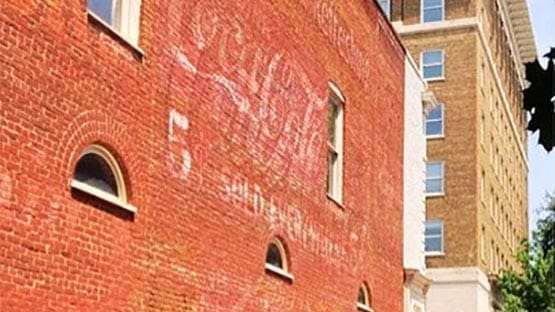 Work began this week to preserve a Coca-Cola ghost mural in Charlottesville on 2nd Street. Artist Scott Allred, an Ashville, N.C. specialist, developed a technique for the antique patina of the fading mural that maintains the vintage character while also enhancing visibility.
Work began on the project Monday and will take place over a two-week period. The ghost mural is located on the 2nd Street side of the Oyster House Antiques building at 122 E. Main St.
The mural includes iconic Coca-Cola images and advertisements for Sloan's Liniment, Owl Cigars, T.J. Wills & Company and Pence and Sterling.
A celebration party to share the mural with the community will be held on Friday, Sept. 8, at 4:30 p.m., with live music, free food, ice cream, face painting, balloons, and, of course, Coca-Cola drinks.
Wall murals of this nature were popularized in the 20th Century when traveling mural men would offer to paint a store name on a building free of charge if he was also allowed to paint an ad for a consumer good. The store owner received a free sign in exchange for letting the muralist advertise a national project.
The first Coca-Cola wall mural was painted on the side of a drug store in Cartersville, Ga., in 1894. A Coca-Cola syrup salesman saw the potential of the exterior wall – its length and adjacency to the busy bus depot made it the ideal location for a display ad.
The concept caught on at corporate, and by the early 1900s, painted wall advertising was included in the annual marketing budget. As many as 16,000 wall murals were painted by the company and its local bottlers, helping make Coca-Cola one of the most recognized brands in the world.
Murals waned in popularity in the 1970s, as shopping malls drove commerce away from America's Main Streets.  However, in recent years, artists have restored and repainted vintage murals, giving these ghost signs a second life.
The preservation project was launched by Friends of Charlottesville Downtown, a non-profit organization working to increase beauty and prosperity in historic downtown.
"Rehabilitation of the ghost mural will preserve a fragile asset and fortify the character of our historic district," said Michael Caplin, co-chair of Friends of Charlottesville Downtown.
The project is underwritten by a generous grant from Coca-Cola Consolidated, the largest Coca-Cola bottler in the U.S. Coca-Cola Consolidated has more than 1,800 team members working in eight facilities across Virginia, including a distribution center in Staunton.
"As a local Coca-Cola bottler, Coca-Cola Consolidated is committed to supporting the communities in which we live and work," said Kara Hughes, Coke Consolidated's manager of sales operations for the Charlottesville area. "Restoring this mural is a nod to Charlottesville and to Coca-Cola's past and represents a shared vision for a vibrant downtown."